Bread Alone's Daniel Leader is at it again. His latest book, Living Bread ($40) is out now in time for holiday giving for the serious bread baker on your list. His other books — Bread Alone and Local Breads: Sourdough and Whole-Grain Recipes from Europe's Best Artisan Bakers — are award-winning ones.
This latest tome pays tribute to traditional ways, offering a comprehensive picture of bread baking for the home baker. It also provides a look into the way break baking has evolved and continues to change.
I was able to get the  Baguette de Richard Ruan from the publisher to share with you.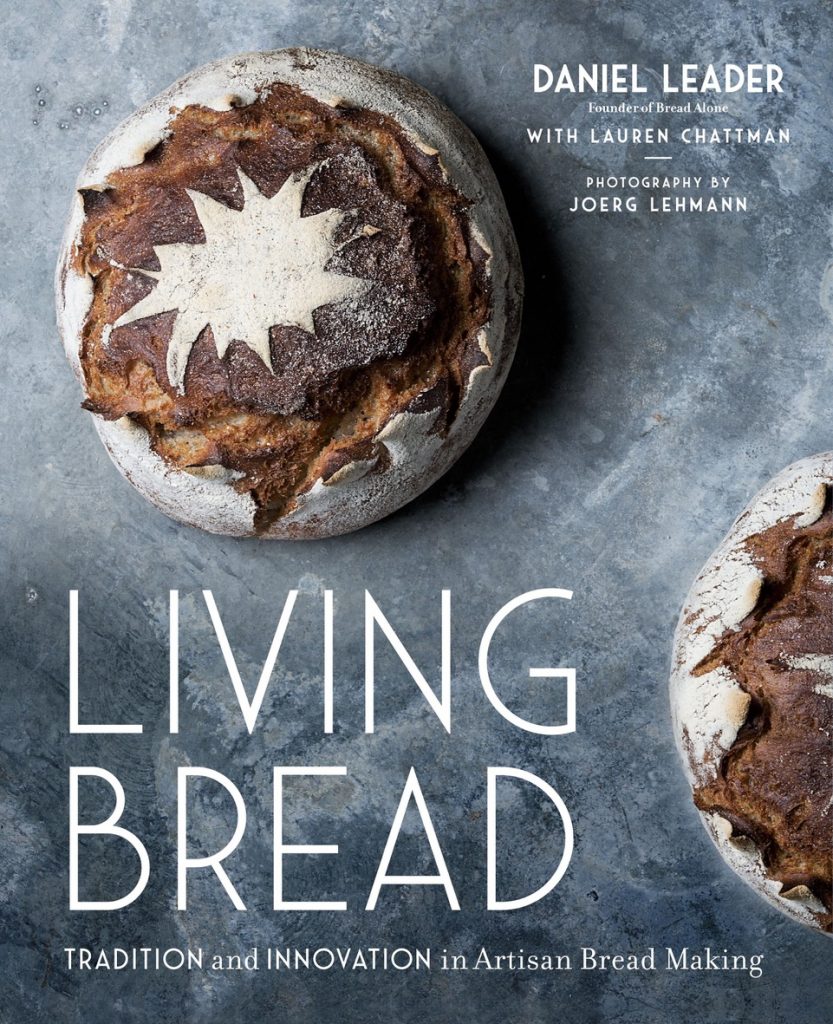 Baguette de Richard Ruan
Ingredients are listed in two figures 1. Bakers percent **  and 2. Metric Weight
Type 65 or equivalent flour (11 to 11.5% protein) 100 / 600 g
Water  75  / 450 g
Salt    2  / 12 g
Dry instant yeast  0.2  /  1 g
Start to Finish: 17 to 29 hours
autolyse – 45 minutes
knead – 15 minutes
rest 30 – minutes
retard – 12 to 24 hours
warm up  – 45 minutes
rest – 30 minutes
final proof – 45 minutes
bake –  25 to 30 minutes
Makes three (354-gram) baguettes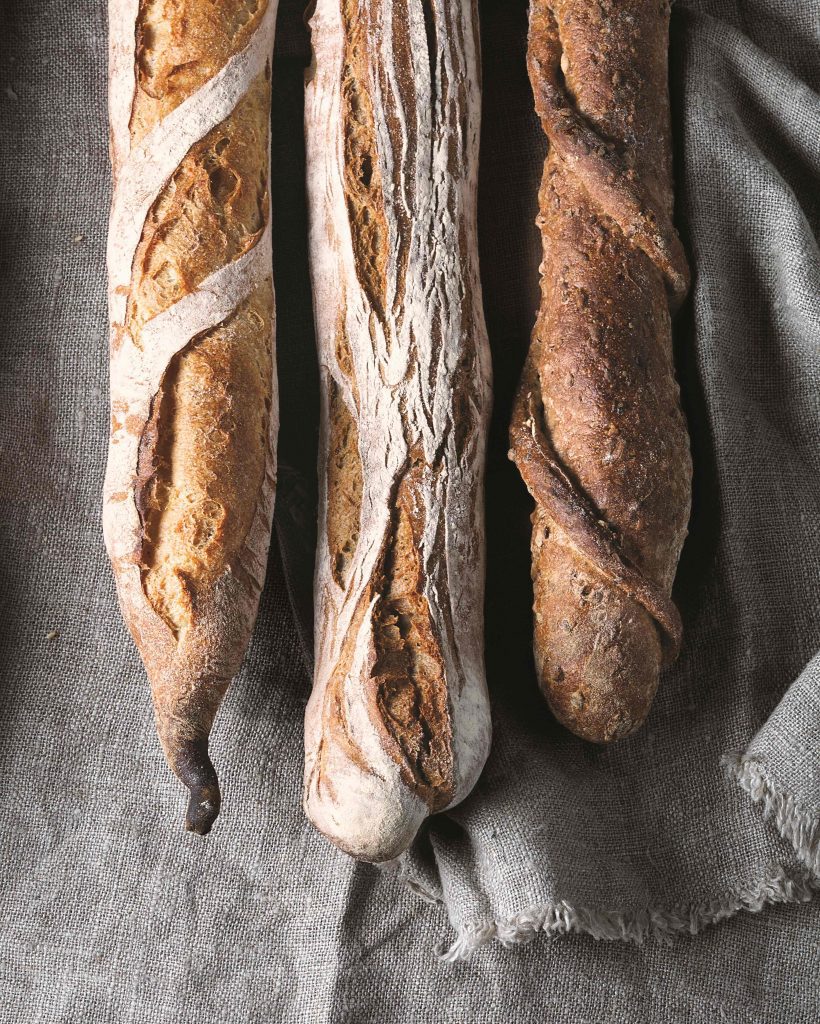 1. Make the final dough: Using a rubber spatula, combine the flour and 400 g of the water in the bowl of an electric mixer fitted with a dough hook. Mix with a rubber spatula just until a rough dough forms.
2. Autolyse: Cover and let rest 45 minutes.
3. Add the salt and yeast to the bowl. With the dough hook, mix on the lowest setting for 2 minutes. Increase the speed to low (2 on a KitchenAid mixer) and, with the mixer on, slowly drizzle the remaining 50 g water into the bowl, about 1 minute. Continue to mix until the dough is very soft, elastic, and shiny, another 10 minutes. Turn the mixer to medium-low (4 on a KitchenAid mixer) and mix another 2 minutes.
4. Retard: Use a dough scraper to transfer the dough to a lightly oiled, clear 3-quart container with a lid. Turn the dough over so all sides are oiled. Cover and let stand at room temperature for 60 minutes. Turn the dough out onto a lightly floured counter. Pat into a 6- by 8-inch rectangle and fold like a business letter. Slide both hands under the dough and flip it over. Slip it back into the container, cover, and refrigerate for 12 to 24 hours.
5. Rest: Remove the dough from the refrigerator and let stand for 45 minutes to warm up. On a floured countertop, divide the dough into three equal pieces and pre-shape into rounds. Cover and let rest for 30 minutes.
6. Final proof: Cover a baker's peel or rimless baking sheet with parchment. Shape each piece of dough, adding additional flour to the work surface as needed, into a baguette with pointed tips about 14 inches long. Dust the parchment-covered peel or baking sheet with flour and place the baguettes on the parchment, seam side down, 2 inches apart. Lift the parchment paper between the loaves, making a pleat and drawing the loaves close together. Tightly roll up two kitchen towels and slip them under the parchment paper along the sides of the outer loaves to support each baguette. Lightly dust with flour and drape with plastic wrap. Let rise until pillowy, about 45 minutes.
7. Bake: About 1 hour before baking, place a baking stone on the middle rack of the oven and a cast-iron skillet on the lower rack. Preheat the oven to 425 degrees for 1 hour. Uncover the breads, remove the rolled-up towels, and stretch the parchment paper out so that it is flat and the loaves are separated. With a lame, a single-edged razor blade, or a serrated knife, make one long slash, about 1/4 inch deep, down the length of each loaf. Slide the loaves, still on the parchment, onto the baking stone. Place 1 cup of ice cubes in the skillet to produce steam. Bake until the loaves are golden brown and well risen, 25 to 30 minutes. Slide the loaves, still on the parchment, onto a wire rack. Cool completely. Store in a brown paper bag at room temperature for up to 2 days.
From LIVING BREAD by DANIEL LEADER with LAUREN CHATTMAN, published by AVERY, an imprint of Penguin Random House, LLC. Copyright © 2019 by DANIEL LEADER
** Each ingredient is expressed as a percentage of the total flour weight, and the total flour weight is always expressed as 100 percent.