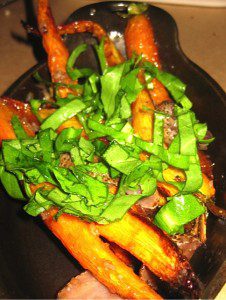 We started with the small pot of decadently rich chicken liver pate sealed with apple cider jelly accompanied by green tomato pickle and toast ($7). Worth the visit alone. Loving good bread, we added an order of the H&F Bread Box ($5); so worth the calories. Our bottle of a Domaine de boisson, cotes du rhone, France, ($36) worked well with the pate.
We shared an order of their roasted baby carrots ($9) and pickled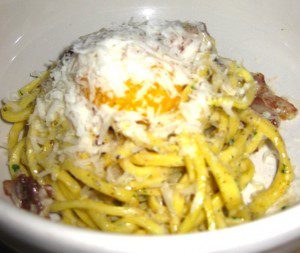 green strawberries (yes strawberries!) topped with a chiffon of fresh sorrel. Also good was the fish (flounder) and chips (potato wedges) served British-style, with a vinegar dip ($14).
In addition, we had some pasta carbonara, a very rich farm-egg and guanciale (unsmoked Italian bacon from pig's jowl or cheeks) dish with hand-cut, quite al dente pasta ($12). My only complaint: the guanciale wasn't fresh enough for my palate.
– bonnie
Follow @BonnieBOTB
Holeman & Finch Public House
2277 Peachtree Rd NE Ste B
Atlanta, GA 30309
(404) 948-1175
holeman-finch.com