Hill Country barbecue takes its "cue" from the meat-markets-turned-barbecue-joints of Texas.  That means to get your food, you stand in line — cafeteria-style — at the counter where slow-smoked brisket, sausage and ribs are sold by the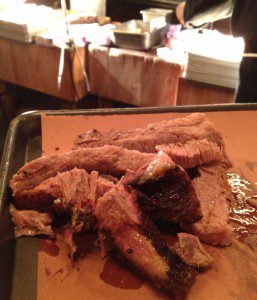 pound and served on butcher-style paper. So is the smoked chicken. After that you head to the counter  to select your Good Eatin' "sides," then to the tiny tables will rolls of paper towels for napkins and squirt containers of their sauces.
Luckily we arrived early (about 6 pm) just before the long lines started. By the time we took our tray to our table, the line was 15 deep!
I had the chicken and rib special that comes with a quarter chicken (I prefer the moist dark meat), a meaty pork rib, any good eatin' (I ordered the collard greens that came with lots of Applewood smoked bacon) and a generous portion of cornbread ($15). My dining partner opted for the by-the-pound option, ordering ribs (both beef  and pork, each $12.75/pound) and moist brisket ($23/pound) and getting the cornbread ($3.50) and small confetti coleslaw ($3.95).
Personally, I prefer being served – but this is for sure an interesting concept to try especially if you don't mind lines!
– bonnie
Follow @BonnieBOTB
Hill Country
30 W 26th St
New York, NY 10010
(718) 213-4835
hillcountryny.com