We stopped into the cozy High Street on the Hudson restaurant before heading to the Lucille Lortel to see The End of Longing, the dark comedy about substance abuse starring and written by Matthew Perry.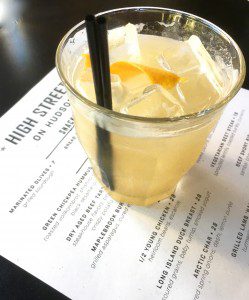 I'm not sure why F&W 2014 Best New Chef 2014 Eli Kulp would use so many menu terms in need of explanation to most consumers other than to have them dialogue with the servers.  (For example: volkornbrot, shishito, chermoula, verano, espelette…) 
When a customer asks a question, I heard the servers commence into their script. "Is this your first time here?" Following the third time I heard those words at nearby tables, I could recite the rest "May I suggest the tasting menu…" We skipped that offering ($65) and ordered a couple items to share, as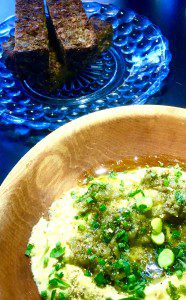 portions are huge.
I did order their 1,2,3 in July cocktail, as I was told that was the spiciest drink made from whiskey, mezcal, ginger, honey and jalapeños ($13). Nothing special.
We started with their green chickpea hummus that reminded me of the ABC Cochina's green pea guacamole. this version also had toasted volkornbrot bread, shishito peppers, was drizzled with black sesame oil and came with toasted batons of multi-grain bread. I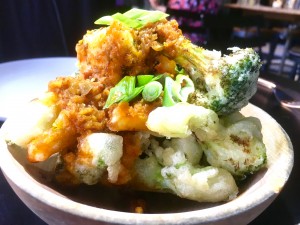 would have preferred thin bread or crackers with the hummus; this thick rye would serve a sandwich better.
Next we shared an unusual green salad ($15) with charred avocado, pistachios and grated aged cheese in a sherry vinaigrette peppered with espelettes; plus a huge portion of tempura fried broccoli with scallions and a slightly spicy pickled relish ($12).  By the time we got to our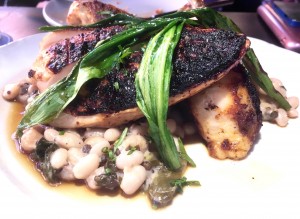 only entree —  the roasted half-chicken ($28) with escarole and beans — we couldn't finish it.
– bonnie
High Street on the Hudson
West Village
637 Hudson Street
New York City, NY 10014
(917) 388-3944