Stopped in at the newly opened and renamed Havana Libra (formerly Cuba Libre, which closed in 2009) in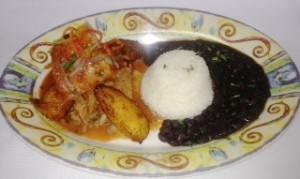 Hell's Kitchen as their guest, as I missed the opening party early this fall. I did so after seeing the comedic love story about eccentrics  — The Patron Saint of Sea Monsters  — at Playwrights Horizon.
If you go, I highly recommend the tapas. The frita mista ($12.95) is lightly crusted, crispy fried calamari and shrimp with both a sweet and spicy a sweet and spicy tamarindo sauce and a traditional cocktail sauce. The flavorful fish tacos, Tacos de Pescade are some of the most moist and flavorful I'm sampled. It contains three small-sized flour tortillas filled with a hearty strip of tilapia topped with homemade ch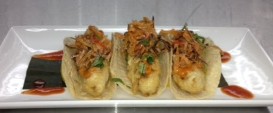 ipotle slaw ($11.95).
For entrees, we sampled Pernil Asado ($19.95) roasted Cuban-style pork (a tad too tough for me) topped with a Salsa Criolla (a tasty onion relish) all served with rice, black beans and flavorful cooked plantains; and the BBQ Costillas ($21.95), one huge beef rib glazed with spiced guava sauce and served with garlic mojo for dipping the yucca fries.
The night we visited, there were no desserts to try.
– bonnie
Havana Libre
Hell's Kitchen
688 Tenth Ave. (at 48th St.)
New York, NY
212-956-2155