With Havana Central touting their Ultimate Mojito made with 10 Cane rum as "The Best Mojito in New York" ($12), I just had to try it.  Sadly I what was served to me was watery with little rum. Save your money and ask for a glass of their tasty house ($9) malbec instead.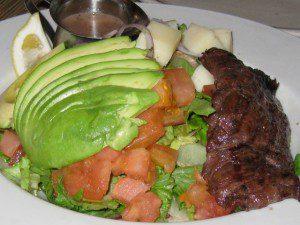 What I highly recommend is the Skirt Steak Salad — Ensalalda de Churrasco ($18) with a perfectly cooked piece of skirt steak, ripe avocado slices, chunks of Manchego cheese, tomato cubes over mixed greens with a light vinaigrette.
That dish is the only one we had that's worth stopping for, especially when you're in Times Square looking for someplace to get a bite to eat. Service was good too.
Havana Central
151 W 46th St
New York, NY 10036
(212) 398-7440
www.havanacentral.com