I was heading to see the Bruce Willis in his Broadway debut along with the incredibly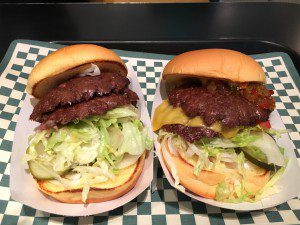 talented Laurie Metcalf at the Broadhurst Theatre — but I wanted to try Harlem Shake as I had been invited and couldn't find another date to do so.
We jumped the 2 train to 125th Street, and as we exited the subway the restaurant is visible at the corner of Lenox Ave. & W. 124from. Harlem's creative burger and shake joint brought back memories of shake shops from my youth. The designer wanted it to feel as if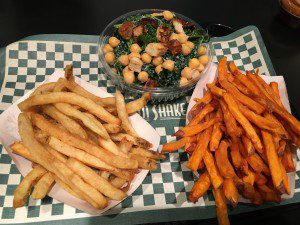 it had been around for generations. They did a great job!
The Harlem classic burgers come with two 2-ounce patties — ground fresh daily with meat from Creekstone Farms, supplied by Pat LaFrieda — served on a toasted Martin's Potato Roll from Pennsylvania Dutch Country. Condiments are made in-house.
I sampled the Hot Mess ($8.50), which is just that – a mess to eat but oh, so good. It consisted of the Harlem Classic with pickled cherry pepper-bacon relish, American cheese, and smoky chipotle mayo.
We tried both their regular ($3.25) and sweet potato fries ($4.50) that are hand cut and double-fried in beef tallow. (They do offer vegetarian versions.) We also sampled their creamy cole slaw ($3.95), mac & cheese ($4.95), small kale and chickpea Caesar ($4.95) and a small portion of the weekend special fried fish, which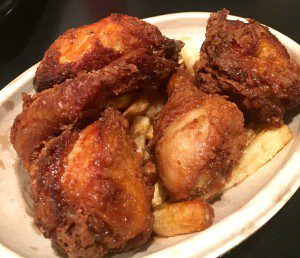 was moist and tender like at a fresh fish joint. The fish is offered as a sandwich ($8.95) and fish and chips ($9.95). I'd recommend either.
I also asked for a souçon of their chocolate shake to report on. All shakes are made using Blue Marble ice cream. My double chocolate was garnished with diced bacon! Oh, so rich and decadent.
Although I don't drink soda, I liked that the ones offered include a selection of vintage real sugar sodas and regional specialties. I prefer wine instead. Harlem Shake offers that by both the glass and the bottle at three price levels – "Cheap" ($7/$26), "Good" ($9/$34) and "Bourgie" ($12/$46). They also offer beer bottled or draft.
While sampling all the above goodies, Jelena Pasic, founder and managing partner, joined us at our table. She's busy with the logistic of getting her second location open in spring 2016. (That will be at 2062 2nd Ave, at 111th Street.) She also got more for us to sample including the newest menu item their finger-licking, juicy double-fried hot honey chicken available as a sandwich ($6.75) or half a chicken in a basket with two sides ($15). Lickin' our fingers we did.
I'd recommend you seeing Laurie Metcalf in the stage adaptation of Stephen King's classic novel Misery if you can catch it in it's short run. She was as amazing as ever.
I'd also recommend a visit to Harlem Shake when you're in the area. You won't be disappointed.
– bonnie
BonnieBOTB

Follow @BonnieBOTB

Harlem Shake
Harlem
100 W 124th Street
New York, NY 10027
(212) 222-8300