Harbor Bistro is located on Three Mile Harbor, it's one of the places to enjoy views of the marina and a spectacular sunset when in the Hamptons.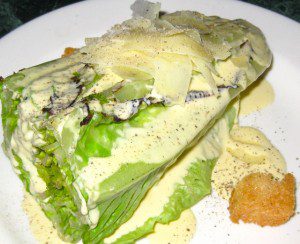 We did just that while enjoying a couple of apps and a bottle of wine. When you go, be sure to get a set on the outdoor covered porch for the best viewing.
The food that we sampled was fine,  just nothing spectacular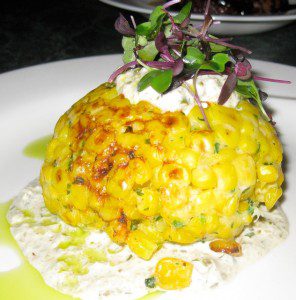 other than their grilled romaine – a hearty heart of romaine with seared tasty grill marks covered in a light Caesar dressing and shaved Parmesan plus crunchy croutons ($10). Don't miss that.
Or try the crab cake coated in fresh toasted corn, topped with a shallot remoulade  and topped with microgreens ($15).
The  Mongolian barbecued glazed baby back ribs contains five meaty, tasty rib but were a tad too salty for my taste. My dining partner loved them. ($14). We washed all that down with a bottle of crisp Albarino Burgans 2009 ($32).
– bonnie
Harbor Bistro
313 Three Mile Harbor Hog Creek Rd
East Hampton, NY 11937
(631) 324-7300
www.harborbistro.net