I had planned to visit Halifax at the W hotel in Hoboken for brunch recently when I learned that the PATH train had suspended service on weekends until sometime in December.
Plan B moved into action on a Friday night when I headed there for their riverside views Manhattan's skyline instead. Executive Chef Seadon Shouse handed us a special tasting menu he had created that included his latest fall offerings. This is one passionate chef, who explained how he house-made most all of the ingredients in the dishes he had selected.
We started with a glass of Lambrusco Reggiano, Donelli, Emilia-Romagna Italy, NV ($56, per bottle) to accompany chef's signature platter of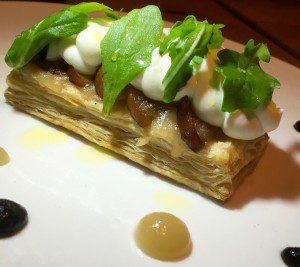 house cured and smoked meats and fish. The platter included small pieces of hot smoked salmon belly cured with maple syrup and salt; mussels steamed in white wine, cold smoked and tossed with olive oil and sea salt; hot smoked trout;  thinly sliced smoked dry-cured pork lomo (this pork loin is his lean version of proscuitto) and — our favorite — the country-style pâté of pork and chicken livers with pistachios (3 selections for $16; 5 for $25).
Next was our unusual salad course of a warm roasted pear tart on puff pastry with a goat cheese mousseline (whipped with cream and crème fraîche), topped with  a few leaves arugula and balsamic and pear gels. I would have preferred this after the meal ($12). The thinly sliced Maine yellowtail crudo came topped with crème fraîche, a
seaweed and cucumber salad all dotted black sesame vinaigrette ($16).
The New England-style clam chowder came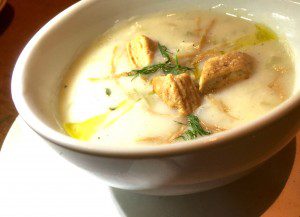 topped with fresh dill, slivers of double smoked ham and with housemade rye oyster crackers ($11).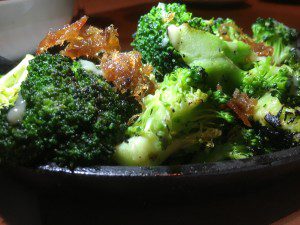 Our main dishes included his signature rich pasta course of Maine lobster with house-made (like most everything else!) saffron rigatoni, dotted with a lobster coral-roe-butter and trumpet mushroom. ($16/$29); and the tender and moist, brined and then hot-smoked Amish chicken with toasted Tuscan bread, pine nuts, scallions, currants and local greens ($22) along with a side of grilled broccoli with smoked ham and garlic ($9).
This enthusiastic chef changes something on the menu every couple of weeks. The night we were there was the introduction of the fall desserts from pastry chef Stuart Marx. Those included a  butter toffee panna cotta with Kahlua geleé, espresso meringue; and his spiced pumpkin s'mores made from house made graham cracker shortbread, chocolate gananche, pumpkin mousse and toasted marshmallow.
– bonnie
BonnieBOTB Follow @BonnieBOTB
Halifax at the W
Hoboken
225 River Street, 1st Floor
Hoboken, NJ 07030
(201) 253-2500