I selected Hakkasan to dine pre-theatre as it was close to the American Airline Theatre where we were seeing The Big Knife, Clifford Odets's tale about Hollywood star in the 40s, starring Bobby Cannavale and directed by Doug Hughes (who used to be the Artistic Director at New Haven's Long Wharf Theatre).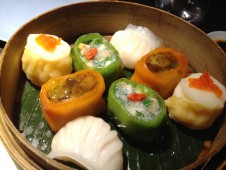 We started with the signature Hakka steamed dim sum platter with a scallop shumai with flying fish caviar, har gau (shrimp and bamboo), shrimp and Chinese chive dumpling and a black pepper duck dumpling ($24). All but the duck one were delicious, especially diped in either the tomato-based chili sauce or the chili oil for a bit more flavor.
Also good are t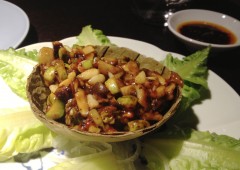 heir stir-fry mushroom lettuce wrap ($13.00). This combination of nuts, mushrooms, asparagus mixed with soy and flavorings is served with lettuce leaves to wrap. It's also tastier with the chili dips.
Horrific is the tofu, aubergine and shiitake mushroom with chili black bean sauce served in s claypot ($19). The tofu was so slimy it reminded me of the unpleasant Chinese sea cucumber that slithers down your throat!
After dining here, I'm wondering how this Chinese restaurant had been awarded a Michelin star. Seriously, the food was pricey for what we received – and the service was almost non existent.
If you decide to go, I suggest just ordering the dim sum platter and a glass of wine.
– bonnie
Hakkasan New York
311 West 43rd Street New York, NY 10036
Cross Street: 8th and 9th Ave
(212) 776-1818