With California avocados now in season, it is the ideal time to enjoy this delicious fruit, hand-grown by farmers like Jaime Serrato.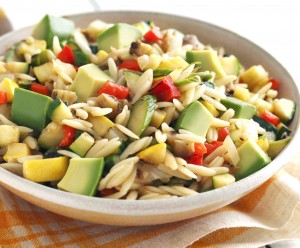 Jaime Serrato truly is living his American dream — his entire life has been influenced by farming, first, observing his father practicing the trade on a ranch in Mexico when he was young. Jamie moved to the United States with his family when he was 10 years old and began his career in the avocado industry as a young adult, when he was hired to pick avocados on farms in California. Over the years, he has risen through the ranks, and today, is president of Serrato Grove Management, Inc., which owns and operates 10 agricultural properties throughout Southern California. This is one of his family's recipes.
Serrato Family Grilled Summer Salad with Avocado
Salad:
·         1/2 red bell pepper, seeded and cut into quarters
·         1 medium zucchini, cut into quarters
·         1 medium yellow squash, cut into quarters
·         1 Japanese eggplant, peeled and sliced thickly lengthwise
·         6  asparagus stalks, tough ends cut off
·         1/4 medium sweet onion, cut into wedges
·         2 c cooked orzo (pasta)
·         Salt and ground black pepper, to taste
·         1 ripe avocado, peeled, seeded and cut into 1/2-inch cubes
Balsamic Vinaigrette
·         1 1/2 T balsamic vinegar
·         1 t Dijon mustard
·         1 clove garlic, peeled
·         1/4 c  olive oil
·         Salt and ground black pepper, to taste
Heat a grill on high. Grill bell pepper until skin side is charred. Remove from grill and wrap in damp paper towels; set aside. Grill zucchini, squash, eggplant, asparagus and onions until just cooked through. Remove from grill and let cool a few minutes. Finely chop vegetables and add to orzo. Unwrap bell peppers from paper towels and peel off skin. Finely chop and add to pasta. Season pasta with salt and pepper.
To make vinaigrette, place vinegar, mustard, garlic and olive oil in a food processor or blender; blend until smooth and creamy.Season with salt and pepper. Pour Balsamic Vinaigrette over pasta and toss to coat. Add avocado and serve.
Serves: 4
Nutrition Information Per Serving: Calories 560; Total Fat 22 g (Sat 3.5 g, Trans 0 g, Poly 2 g, Mono 15 g); Cholesterol 0 mg; Sodium 30 mg; Potassium 530 mg; Total Carbohydrates 78 g; Dietary Fiber 8 g; Total Sugars 8 g; Protein 15 g; Vitamin A 795 IU; Vitamin C 45 mg; Calcium 40 mg; Iron 4 mg; Vitamin D 0 IU; Folate 250 mcg; Omega 3 Fatty Acid 0.2 g
– Recipe and photo courtesy of California Avocado Commission