The group gathered at the open air top deck of the Americano Hotel at 518 W 27th Street spoke mostly Spanish or with an accent and were wearing hot pink, neon orange or cher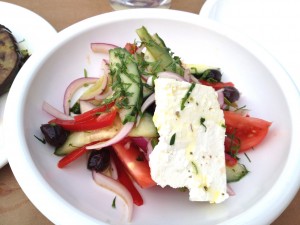 ry red.  It felt more like Lisbon, Santiago or Rio, than a New York City rooftop.
After dining there, I learned why. The hotel is  part of the Mexico City-based Habita group, who created the space to welcome Latin American clientele and who staffed the hotel with mostly South Americans.
The main reason for heading here is the spectacular view of the sun setting on the Hudson, people walking Hig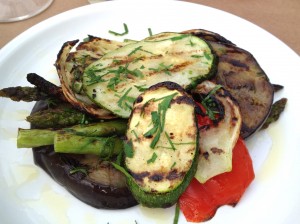 h Line and  the Empire State Building. It's a place for out-of-towners  (or New Yorkers with visitor) to drink in the city skyline or to  sit by a pool – yes there's a small lap pool  surrounded by soft ottoman seating areas.
The menu is very limited, but the food is good. The veggies (eggplant, fennel, roasted red pepper and asparagus) were fresh-grilled ($7) on the open air grill on the roof.
With that we sampled  a refreshing combo of cucumbers, tomatoes, red onion, kalamata olives and feta cheese ($15) with a side of grilled pita ($3).
The mixed drinks are pricey and weak. I suggest ordering a bottle of wine instead.
– bonnie
Grill at La Piscine at the Hotel Americano
518 West 27th St.
New York, NY
212-525-0000