The food section on Parade.com just published my yummy Greek Rice Salad – a recipe originally printed in Joanne Lamb Hayes and my "Rice" cookbook.  Do check out Parade.com as each day they highlight one hot recipe.
This is one of my favorite summer salads. Try is as a delicious accompaniment to grilled meats, or as a light spring or summer meal, especially when tomatoes are ripe. Serve along with come crusty bread.
Prep Time: 10 minutes
Cooking Time: 20 minutes (if using white rice, longer if using brown)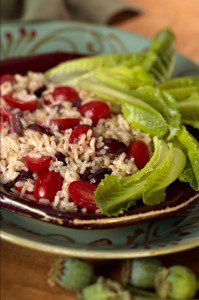 1 c rice
6 T olive oil
2 T freshly squeezed lemon juice
1 t dried oregano leaves
Pinch salt
Freshly ground black pepper, to taste
2 large ripe tomatoes, diced or 2 cup halved grape tomatoes
1/2 lb feta cheese, crumbled
3/4 c  sliced pitted black olives, preferably kalamata
1/4 c  chopped fresh Italian (flat-leaf) parsley
Romaine leaves
Cook the rice according to package directions. Remove from the heat and let stand, covered, 5 minutes.
Meanwhile, whisk together the oil, lemon juice, oregano, salt and pepper. Add the tomatoes, feta, olives and parsley. Toss together with the lukewarm cooked rice.
Taste and adjust seasonings. Serve on romaine leaves lukewarm or refrigerate until 30 minutes before serving.
Makes 4 to 6 servings.
– bonnie