When visiting friends in the Hamptons, I ended up in the kitchen preparing a make-ahead lunch. That meal included my favorite Greek rice salad from my first cookbook "Rice," along with cooked shrimp and roasted asparagus topped with a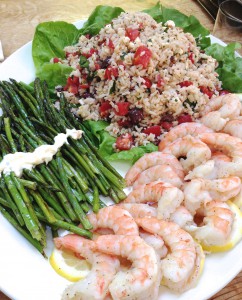 spicy lemon aioli.
I liked that this lunch could all be prepared ahead, actually sitting on the table awaiting our company.
The rice salad takes about 10 to 15 minutes of prep time, plus 20 minutes of cooking time. If you use brown rice, cooking time will be about 20 – 25 minutes longer.
Give it a try. It's one of my favorites!
– bonnie
GREEK RICE SALAD
1 cup rice
6 Tablespoons olive oil
2 Tablespoons freshly squeezed lemon juice
1 teaspoon dried oregano leaves or 1 Tablespoon fresh
½ teaspoon Dijon mustard
Pinch salt
Freshly ground black pepper, to taste
2 large ripe tomatoes, diced or 2 cups halved grape tomatoes
1/2 pound feta cheese, crumbled
3/4 cup sliced pitted black olives, preferably kalamata
1/4 cup chopped fresh Italian (flat-leaf) parsley
Romaine or other lettuce leaves
Cook the rice according to package directions. Remove from the heat and let stand, covered, for 5 minutes.
Meanwhile, make the dressing by whisking together the oil, lemon juice, oregano, mustard, salt and pepper. Add the tomatoes, feta, olives and parsley. Toss together with the lukewarm cooked rice.
Taste and adjust seasonings. Serve on romaine leaves at room temperature or refrigerate until 30 minutes before serving.
Makes 4 to 6 servings.
 This recipe is adapted from "Rice" by Bonnie Tandy Leblang and Joanne Lamb Hayes.