In December, the Grand Hyatt New York launched it's signature chocolate line at a tasting event with the hand-crafted artisinal chocolates designed and created by executive chef Gonzalo Jimenez.  At that decadent event, I was invited to return to sample their new chef's food at New York Central. What a treat.
One snowy night, we sat by the wall of windows overlooking east 42nd Street The service w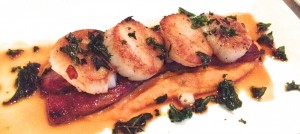 as attentive, the food quite good and so I recommend going, especially if you need a place for a business meeting with an associate coming into Grand Central Station. You can get into the Grand Hyatt without ever walking outside.
While looking at the menu, the waiter brought us a selection of three breads — just as I like them crusty outside, dense — white, whole wheat and cranberry along with some fresh, soft butter.
New York Central offers a special healthy balanced menu, giving you the option of creating your dish by selecting the size entree (4 or  6 ounce), method of cooking (grilled, pan-fried or steamed), sauce (a choice of seven) and two side dishes.
We selected from the main menu, beginning with four sea scallops balanced on a thick slice of smoky bacon over pureed sweet potatoes, sprinkled with diced green apples flavored with horseradish and apple cider ($16). A must.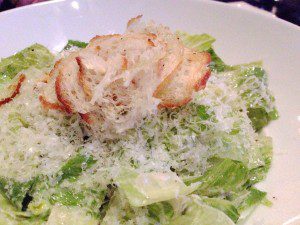 For salads, try the sliced roasted beets come hidden under an arugula, hazelnut, red onion and dried cherry salad dressed in balsamic vinaigrette (15); or the wonderfully crisp and refreshing Caesar salad flavored with white anchovies and Parmesan, topped with paper-thin bread crisps ($15).
Our pasta courses included the whole wheat orecchiette with wild mushrooms, roasted tomatoes and creamy chèvre tossed in an arugula pesto ($18) and chef Miguel's lasagna made with San Marzano tomatoes, sausage, ricotta and a soupçon of spice — topped with two large Parmesan garlic croutons ( $24). Both worth ordering.
Perfection was the tender strip steak, cooked medium rare as requested over mashed Yukon potatoes and topped with caramelized onions. The only miss of the Sunday evening was the pan-seared black cod with stir-fried mixed veggies, that night's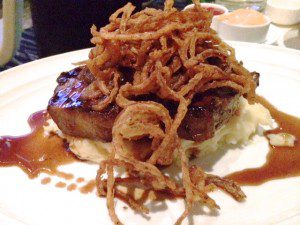 special — as it was too fishy to enjoy. The waiter offered to replace it, but we declined, as we were wonderfully satiated.
For dessert, I preferred the Blonde Chocolate Namelaka a decadent chocolate custard with rich bitter chocolate ganache, meringues and passion fruit pearls to the more ordinary apple pie in a jar with crème fraiche gelato and cinnamon streusel.

– bonnie
Follow @BonnieBOTB

New York Central, in the Grand Hyatt)
Midtown East
109 E 42nd St
New York, NY 10017
(646) 213-6865