So lucky am I to have been taken to Gramercy Tavern numerous times since getting a place in Manhattan. One time with friends welcoming me to the city, others for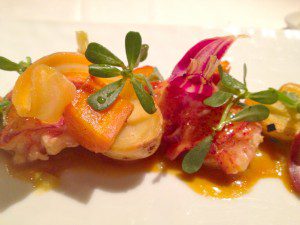 birthdays.
If you haven't been, make a point of dining there, as it remains one of the top places in the city for spectacular seasonal cuisine, warm hospitality and exceptional service. Gramercy Tavern has three New York Times stars, one Michelin star and has been awarded the James Beard Award for Outstanding Restaurant, while it's chef  Michael Anthony received the Best Chef: NYC award. Yes, it's that good.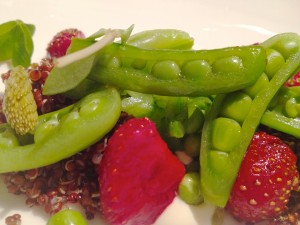 To celebrate (as I was still on my extended b-day celebrations), we popped a bottle of champagne Diebolt-Vallois Brut Blanc de Blancs  ($100) while deciding among executive chef Michael Anthony's offerings.
We started a simple, fresh summer green salad with quinoa, and pecorino cheese ($12) and the tender butter-poached warm lobster knuckles salad with carrots, fingerling potatoes and crunchy purslane ($18), and the sugar snap pea and wild strawberry salad, with lemon ricotta, red quinoa and pickled spruce. The kitchen — just because — wanted us to sample their amazingly delicate savory custard — one layer from sugar snap peas, the other mushrooms — topped with fresh peas, pickled ramps and honshemeji mushrooms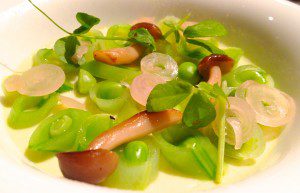 ($14).
The fillet of sea bass arrived on a bed of shelled mussels, topped with a spring onion puree ($22). It was perfectly cooked – moist and flavorful. The only disappointment was my too-raw for me, arctic char ($24) that was smoked over applewood chips, with a cold puree of summer squash, a bed of kale and a carrot sauce. Our server offered to replace it but I found it unnecessary as I was way too full by that time.
I do admit that I found room for my special birthday dessert of fresh strawberries graham cracker crust with a sugar glaze with a side of vanilla ice cream. I also indulged in my dining partner's rich chocolate espresso semifreddo in a pool of hot fudge with candied macadamia nuts.
Having been on a recent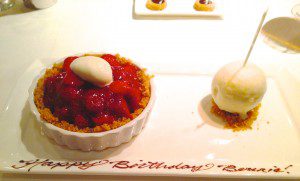 Sancerre Rouge kick after discovering those red and rose wines, I ordered a glass of the dry, crisp Bouley, Chavignol, 2012 ($13.50) Loire Valley, made from Pinot Noir grapes, with lots of minerality and some citrus.
The meal ended in the usual Gramercy Tavern fashion with a plate of chocolate, macarons and cookie treats.
Always wonderful, I can't recommend it highly enough!
– bonnie
Gramercy Tavern
Gramercy/Flatiron
42 E 20th St
New York, NY 10003
(212) 477-0777