I hadn't been back to Gotham since a celebration two years ago. This time I went with a group of friends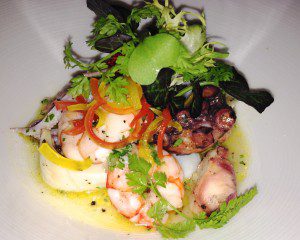 after seeing Newsies on Broadway. There was a mix up with the reservation; instead of being courteous Joseph, who was manning the host stand, was rude and indignant.
We did straighten things out – but that dialogue left a bad taste in my mouth. Not so the food, though, nor the service afterward that encounter.
I always look for wine in the $50 – 60 range, especially when dining at high-end restaurants like Gotham, as every wine on the menu will be good – and ask the sommelier for suggestions! Ours recommended the spicy full-bodied Le Combal Cosse Maisonneuve, 2008 ($56), that worked well with each of our dishes and didn't break the bank.  
Don't miss the seafood salad ($24, a half portion, pictured here), a melange of scallops, squid, octopus and lobster, with ripe avocado, all dressed simply in lemon and olive oil. Also recommended is the deconstructed roasted beet salad ($19), with yellow and red beets, beautifully arranged with feta cheese, tangerine supremes, toasted hazelnut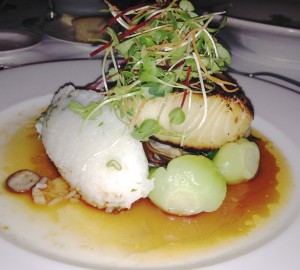 s and shaved fennel in a citrus vinaigrette. Also good were the goat cheese filled tortellini ($24) in a broth with braised lamb and butternut squash, garnished with freshly grated Parmigiano Reggiano.
I highly recommend the miso-marinated black cod ($42), as it was perfection — tender and succulent — served with bok choy, shiitake mushrooms and sticky rice, drenched in a lemon grass ginger sauce and topped with microgreens. Massive were the Niman Ranch pork chops ($40) served with braised kale, roasted figs and baby turnips in a port wine reduction. Braised greens, roasted carrot and cippolini onions accompanied the swordfish ($39)  in a white wine lime emulsion.
Not having much room left after the meal, the four of us split one slice of the rich chocolate dessert ($14) topped with salted almond ice cream.
Gotham is good, but at these prices, consider it a special occasion place.

– bonnie
Follow @BonnieBOTB

Gotham Bar & Grill
Greenwich Village
12 West 12 Street
New York, NY 10003