When living in Connecticut, I often had a soup party.  It was the way I found to serve a large crowd during winter. I'd have soup pots spread throughout the first floor kept warm on hot plates and on the stove. Each pot was surrounded by appropriate accouterments. Guests would have a mug to sample each of the soups.
This Portuguese Bean Soup was always included. It's delicious and nutritious as its chockful of beta-carotene (vitamin A). And it's even better the next day. It's based on my recipe in "Beans" by me (Bonnie Tandy Leblang) and Joanne Hayes, Harmony, 1994.
As in most soups, the quantities of fresh ingredients can vary depending on what you have on hand. Add more onions, carrots, sweet potatoes, squash, beans and cabbage, if desired.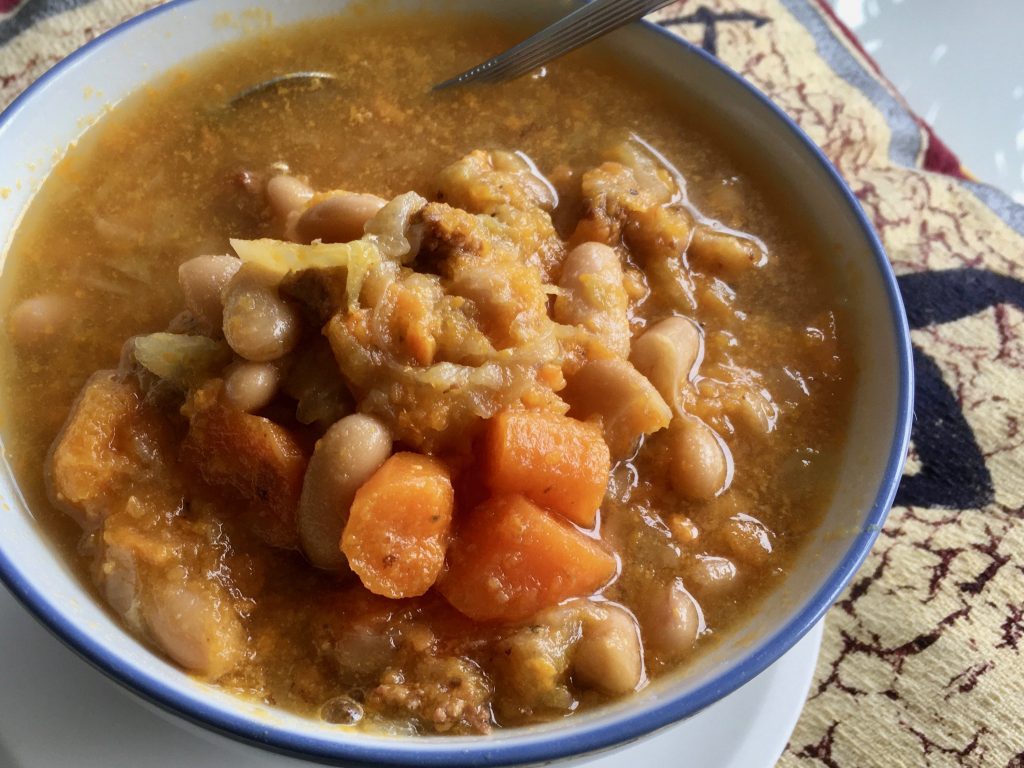 QUESTIONS about this how to do something in this or other recipes?  Ask in the comments section below or email info@biteofthebest.com and I'll respond. 
Golden Portuguese Bean Soup
Makes 6 hearty servings
Necessities:
1 pound thinly sliced chorizo, linguiça or other flavorful sausages, preferably garlicky
1 large onion, minced (about 1 1/2 cups)
1 butternut squash, peeled, seeded and diced (or purchase a package of already diced squash!)
2 peeled and diced sweet potatoes
4 peeled and diced carrots
2 cups cooked cannellini beans (if canned beans, rinsed and drained)
1 small head cabbage, shredded or 10-ounce package already shredded cabbage
On hand:
Black pepper, preferably freshly ground
Salt
Red pepper flakes
How to:  Cook the sausage in a 4-qt saucepan over medium-high heat until lightly browned. Add the onions and cook until softened, about 5 minutes. Add 6 cups water, the butternut squash, sweet potatoes, carrots, cannellini beans, 1/2 teaspoon cracked pepper, 1/4 – 1/2 teaspoon salt and, if desired, a pinch of red pepper flakes. Bring to a boil, reduce heat, cover and simmer for 30 minutes or more. Add the cabbage and cook an additional 20 minutes.
Before serving, taste and add more salt, pepper and red pepper flakes if needed.
Taste and Adjust Seasoning. I've often been asked if recipes are tested why do I need to "taste and adjust the seasonings" before serving?  For one, dried seasonings lose flavor as they age. If you can't identify each herb by its smell, it's time to buy new.
Also, as soups and stews simmer, the quantity reduces concentrating the seasonings, especially the salt. So before serving a dish, taste it to decide whether or not it would be better with a bit more salt, herbs or spices. Only add a little at a time, mix and taste again so you don't overseason.