Here's a simple, partially make-ahead colorful hors d'oeuvre. To do ahead, I "toast" the bread and marinate the peppers. As company arrives, I spread the toast with the goat cheese, top with the pepper mixture and garnish with some microgreens. Easy!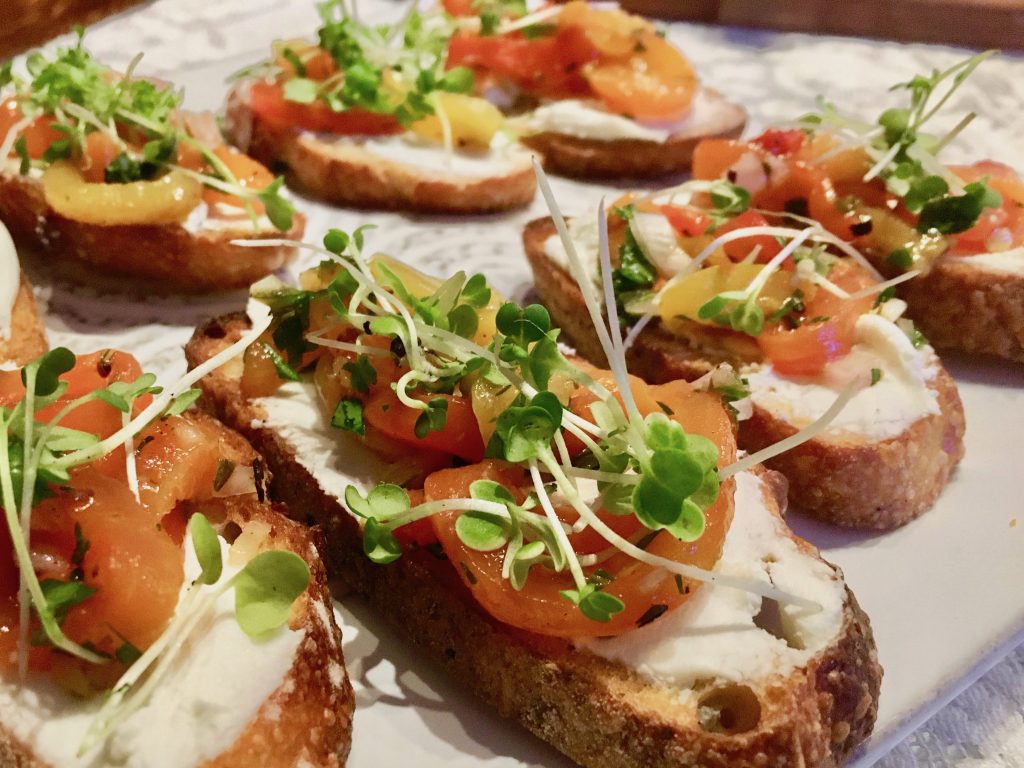 Goat Cheese Roasted Pepper Bruschetta
1 baguette, sliced on the bias about 1/2-inch thick
Extra virgin olive oil
1 1/2 tablespoons balsamic or red wine vinegar
1 cup thinly sliced roasted red, yellow and orange peppers*
1 shallot, minced
1 teaspoon dried thyme or 2 teaspoons fresh
Salt and pepper to taste
A large pinch red pepper flakes
3 tablespoons freshly chopped Italian parsley
6-ounce log fresh goat cheese, at room temperature
Garnish (optional), microgreens
Preheat the oven to 400 degrees F.
Brush both sides of the bread slices with olive oils on both sides, then season with salt and pepper. Place slices on a baking sheet and into the oven until crisp, about 7 to 9 minutes.
Meanwhile, whisk together 3 tablespoons olive oil and the vinegar.  Stir in the roasted peppers, shallots, thyme and red pepper flakes;  season with salt and pepper. Gently toss to combine, then fold in the parsley. Set aside to marinate.
Spread each toast with a small spoonful of goat cheese. Top with a spoonful of the pepper mixture, followed by a pinch of microgreens. Arrange on a platter and serve.
Serves 6
* Either roast your own, use drained jarred ones or purchase them from the deli. Whichever, thinly slice the peppers before marinating.