Taco Cheesecake
What's more versatile than tacos or cheesecakes as vehicles for bold flavors? I haven't created a dessert taco yet but I am getting a good idea for one.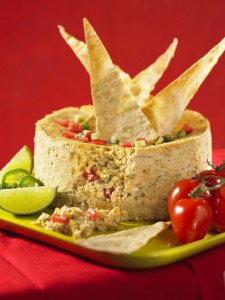 Crust
1-1/2 cups tortilla chips, finely crushed
2 T unsalted butter, melted
Filling
Two 8-ounce packages cream cheese, softened
2 tsp granulated sugar
2 large eggs
6 oz shredded cheddar cheese
1 large roma tomato, seeded and diced, about 3/4 cup
1/2 cup packed, washed and chopped cilantro
1/2 cup diced onion
2 cloves garlic, minced
2 tsp taco seasoning
1 tsp hot pepper sauce
Decoration
2 cups shredded lettuce
Preheat oven to 325°F
Crust: In a bowl, combine crushed chips and butter. Press into bottom of 6-inch cheesecake pan with 3-inch sides, and freeze.
Filling: In a large mixer bowl fitted with paddle attachment, beat cream cheese, and sugar until very smooth, for 3 minutes. Add eggs, one at a time, beating after each addition. Stir in cheddar cheese, tomato, cilantro, onion, garlic, taco seasoning and hot pepper sauce.
Pour over frozen crust, smoothing out to sides of pan. Bake in preheated oven until top is light brown and center has a slight jiggle to it, 30 to 40 minutes. Let cool on a wire rack for 2 hours. Cover with plastic wrap and refrigerate for at least 6 hours before serving.
Decoration: Place cheesecake on serving plate with lettuce around sides.
Serves 10 to 12
Tip: For best flavor, reheat before serving. To serve warm, wrap in foil and bake at 300°F for 20 minutes or until warm