My friend went to pick up our theatre tickets only to discover that the date she bought was for the following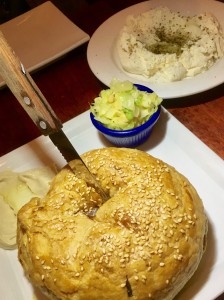 week! We had a good laugh, then decided to walk up Ninth Avenue and find a fun cheap eats place to dine; she had worked in the area years ago and recalled some good places.
We stopped outside Gazala's Place window to look at the menu. This very small restaurant offering Druze  (a type of Israeli) cooking. As we stood there discussing it as an option, a couple got up from one of the tables in the completely full, very tiny, place.
"Let's do it!"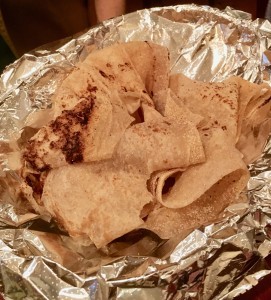 As we squeezed into our seats, I jokingly said to the couple at the next table that by the end of the meal, we'd be friends. When I noticed unusual wines on each of the tables, our neighbors mentioned that it was a BYOB, with a liquor store right across Ninth Avenue.
We ordered the special Bureka, a spinach and feta filled phyllo dough bun sprinkled with sesame seeds, that with some hummus and a tiny salad ($12.50) and the lebanee ($8.50), housemade goat cheese drizzled with olive oil and served with one of the thinnest breads I've ever seen.  The bureka was almost a meal in itself, only wished it had more filling and less dough. The lebanee  is perfection.
I recommend a visit, making a reservation before going!
– bonnie

Gazala's
Hell's Kitchen
709 9th Avenue
New York, NY 10019
(212) 245-0709
Gazalasplace.com
Save
Save