After reading NY Magazines' recent 101 Cheap Eats piece, I made a date with a friend to try #2 on the list, ranked in order of preference, and headed down to the Lower East Side to East Houston Street to try it.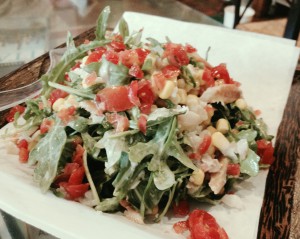 To order at tiny Italian café, located a few steps below street level, just go up to the counter and Gaia herself takes your order, which is then served to you when prepared. (You pay after eating.)
I tried some things f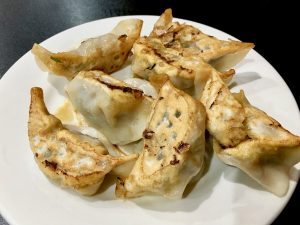 rom the printed menu and others from the specials' blackboard. The hearty salad special ($9) contained a pile of fresh arugula, chunks of smoked  trout,  tomato pieces and pickled corn in a lemon dressing.
Don't miss the five delicate spinach and ricotta gnocchi balls baked in a tomato sauce ($7). And be sure to order a panini. The Milanese contains a chicken cutlet and tomatoes on a pesto spread house made thin, crisp bread ($5).
As we were planning to leave the sky opened up, and we sat back down to order espresso and cookies ($.50), which they buy, not make.
If you find yourself on Houston Street or just wondering the Lower East Side, I recommend you do stop in for some cheap tasty eats.
And BYOB if  you're going for dinner.
– bonnie
Gaia Italian Café
Lower East Side between Avenue A & Norfolk St
251 E Houston St
New York, NY 10002