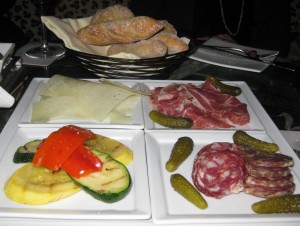 Locating a quiet place to get a drink and nibble before theatre isn't easy, as most New York City places are bustling with crowds. The Gaby Bar at Hotel Sofitel is an exception, albeit a pricey one.
I stopped by the Gaby Bar recently with a friend after a press screening of the powerful documentary "Mine," about the bond between humans and animals — set in New Orleans in the aftermath of Hurricane Katrina. This movie, directed by Geralyn Pezanoski, won the Audience Award at both the SXSW Film Festival, and San Francisco Documentary Festival. Worth seeing for sure!
We each sipped a glass of Lafite Reserve, Speciale Bordeaux Blanc ($13)  and nibbled a "La Provencal" platter ($24) of grilled vegetables with sea salt, prosciutto, Idiazábal (a sheep's milk Spanish chees)  and saucisson sec. Delicious — at that price I had hoped for a few more veggies.
– bonnie
Gaby Bar at Hotel Sofitel
45 West 44th Street
New York, NY 10036-6613
(212) 354-8844
Save