Families skiing in the Park City area often look for reasonably priced places to take the kids. Full House Asian Bistro in the Kimball Junction shopping area is just that. This decent kid-friendly restaurant offers Chinese, Asian and Japanese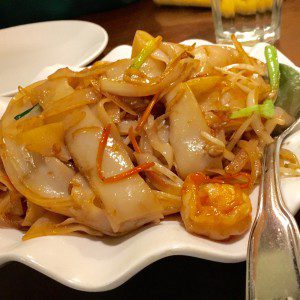 selections.
We started with the spicy wonton soup for two ($8) with steamed wontons in a sweet both made spicy with some chile oil. Warmed the soul from inside out. I'd recommend.
Next we ordered Buddha's feast with broccoli, carrots, black mushrooms and tofu ($11) made spicy, as asked them to make to do so. I was wanted a spicy dish like Buddha's with lots of veggies. Was fine, nothing special. I did appreciate that there wasn't an extra charge for brown rice. We were still hungry so we ordered a noodle dish with chow fun noodles ($1 extra for them). The shrimp lo mein ($13) was a bit greasy for me.
I'd still recommend if you're looking for Chinese food when out west skiing. Reasonably priced and decent.
– bonnie
Full House Asian Bistro
Park City
6300 N Sagewood Drive
Park City, UT 84098
(435) 615-7686