Frittatas tap your creativity!  I hardly ever make the same frittata twice because I use what's leftover in my kitchen. Make this egg dish ahead, or just assemble it while friends are there. It's that easy!
I recently had some friends in to watch an awards show; I decide to make my frittata ahead and serve it at room temperature between awards. I found two small Yukon Gold potatoes in my cupboard, a bag of baby spinach and cheeses in the fridge and some Applegate bacon in my freezer. That kitchen-tested recipe is included here.
You don't need a recipe to make one.
Just gather up the leftovers in your refrigerator and pantry to form a unique frittata that will never taste exactly the same way twice. The recipe below is a loose template to be altered according to what you've got lying around. You can substitute cooked pasta and rice for the potatoes, and cooked greens for the raw. Play around with different cheeses, or skip them altogether.
Serve your creation for a light supper, brunch, breakfast or whatever!
If you'd like other frittata recipes, I linked to others already posted on the site — Ham, Jarlsberg and Potato Frittata and a Tomato-Chevre-Potato Frittata.
Frittata with Bacon, Spinach and Potato
6 large eggs
1/4 cup chopped fresh Italian parsley
3 ounces chevre, crumbed
Salt
Freshly ground black pepper
4 ounces sliced bacon
8-ounces (2 medium) Yukon gold or other thin-skinned potatoes, scrubbed and cut into small — about 1/2-inch —pieces
6-ounce bag baby spinach
3 tablespoons grated Parmigiana Reggiano
Optional garnishes (I used  microgreens and sliced tomatoes)
Preheat broiler.
Whisk together eggs, parsley, chevre, 1/4 teaspoon salt, and 1/4 teaspoon pepper in a large bowl.
Cook bacon in a 10-inch non-stick or cast-iron heavy skillet over medium heat, stirring, until crisp. Transfer bacon with a slotted spoon to a paper toweling then pour off and discard all but about 2 tablespoons fat.
Add potatoes to the bacon fat in the skillet, season with salt and pepper and cook over medium-high heat until golden, about 3 to 5 minutes. Cover skillet and continu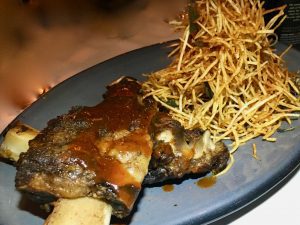 e to cook over medium-low heat, stirring a few times, until potatoes are just tender, about 5 to 8 minutes more. Add spinach and cook until wilted. Crumble and return bacon to pan. Spread the mixture evenly over the bottom of the pan.
Pour egg mixture evenly over vegetables and cook over medium-high heat, lifting up cooked egg around edges with a heat-proof rubber spatula to let uncooked egg flow underneath, 2 to 3 minutes. Reduce heat to medium and cook, covered, until the eggs appear mostly set, with a moist top and center, 3 to 5 minutes more.
Sprinkle with Parmigiano, then broil 5 to 7 inches from heat until set, and beginning to browned about 3 to 5 minute. Watch carefully so it doesn't burn.
Let stand 5 minutes before serving hot, or let sit and serve at room temperature. If desired, garnish.
If using a nonstick skillet, slide the frittata onto a serving plate. If using a cast-iron skillet, cut and serve wedges directly from the skillet.
Makes 4 servings