Use this fresh berry relish — made from both blueberries and cranberries — as a side dish for your holiday dinner. Top turkey, pork or ham; add to sandwiched or just top vanilla ice cream, sorbet or frozen yogurt.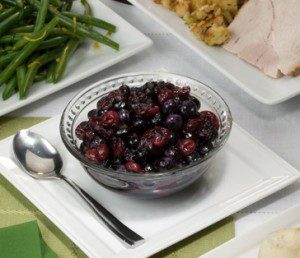 Fresh Blueberry and Cranberry Relish
1 cup fresh blueberries
1 cup fresh orange juice
2 cups fresh cranberries
1 T orange zest
3/4 cup sugar
1 t vanilla
Combine all ingredients in a medium saucepan over medium heat. Cook until the sugar dissolves and the berries soften, about 15 minutes. Remove from heat, cover and chill. Best made in advance to let flavors blend.
Makes twelve 1/4-cup servings
Recipe and photo courtesy of Chilean Fresh Fruit Association