Luscious fresh berries provide a tasty topping for golden light crepes in this simple but elegant recipe for brunch or dessert. Whether using bright red raspberries or strawberries,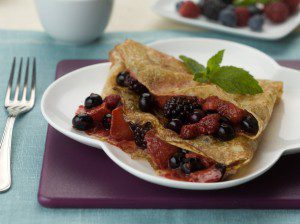 or juicy ripe blueberries or all three, the layers of berries transform crepes into a masterpiece that tastes as good as it looks. Plus with the antioxidant activity of blueberries, this treat is good for your health.
Fresh Berry and Orange Crepes
8 crepes (use your favorite recipe or store bought)
3 T butter
2 c mixed fresh berries: blueberries, blackberries, raspberries, strawberries
2 oranges, zested and sectioned
1/ 4 c sugar
Vanilla yogurt or whipped cream, optional
Stack crepes on a plate and cover with foil. Heat in a 300 degree oven for 10 minutes along with 4 serving plates. In a large sauté pan melt butter. Add berries, orange sections, orange zest and sugar. Cover and sauté until the berries are softened and heated through and the sauce thickens, approximately 5 minutes.
Place crepe on a warm plate. In one corner of a crepe, spoon on 1/4 cup fruit mixture. Fold in half then again into quarters. Repeat process serving two per person. Keep prepared crepes warm while assembling. Top with vanilla yogurt or whipped cream. if desired.
Makes 4 breakfast or dessert servings.
– Recipe courtesy of the Chilean Fresh Fruit Association