Our first day in Austin we headed to the famous BBQ joint where the lines are legendary. Word has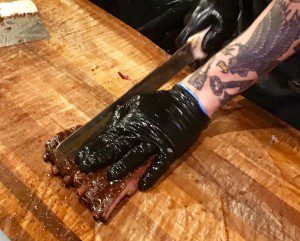 it that Obama was the only person to ever cut the long lines at Franklin's where the wait is often 3 to 4 hours. We lucked out and only waited 1 1/2 — sort of like waiting for New Haven's Pepe's Pizza — you do it once just for the experience, while getting to know the stories of your fellow line-waiters.
As you're waiting, one of the staff warns you of what offerings might be gone by the time you get to the front of the line. That staff person promised us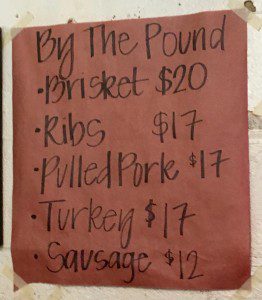 brisket and sausage, yet predicted they'd be out of ribs and pulled pork. Once we got through the door and our wait was only 30 minutes, another server asked whether we'd like a beer or other drink..
Lucky us, when we were able to order, they still had it all. We ordered ribs, sliced brisket, pulled pork, a sausage, cole slaw, pinto bean and a pecan pie. Hey — I planned to do this only once, so why not try it all. There are no plates only a brown butcher paper lined tray that you eat off of with plastic silverware … or your hands.
We demolished every tasty finger-linkin morsel (other than the white bread they served with it), and loved it all. The ribs and brisket were our favorites.
If  you want a true Austin, Texas experience, I do recommend waiting in line for this great BBQ  — as long as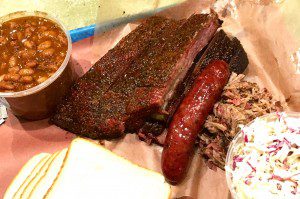 you have the time and patience!
– bonnie
Franklin Barbecue
900 East 11th Street
Austin, TX 78702
(512) 653-1187
Save
Save