A newcomer to Connecticut's restaurant scene, Fraîche offers a fresh twist to its menu with market driven dishes pumped with flavor. This inviting restaurant with sophisticated country touches is tucked in a small strip mall in Fairfield, an easy drive for locals and a just over an hour's train ride from Manhattan. I have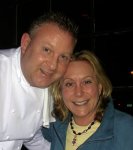 followed Chef Marc Lippman's culinary career from his Manhattan days as executive chef at Wild Blue at Windows on the World to Las Ventanas at Cabo San Lucas. A few years ago, Marc returned to Connecticut with his wife and young baby in tow to head up the kitchen at Ocean Drive in South Norwalk. Now the father of two is happily settled in his own kitchen, and Connecticut foodies are a lucky lot.
The veggie-head in me was thrilled to see that most dishes offered nuts, greens, mushrooms and gourds in their preparation. Our "Foodie Five*" passed dish after dish sampling hand-made gnudi with Parmigiano Reggiano, brown butter, calabaza and sage ($12), jumbo sea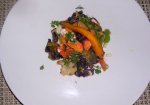 scallops with black truffle sauce, sunchoke confit and parsley ($16), and potato "gateau," a fingerling potato salad topped with Chattanooga beluga (aka Tennessee paddlefish) ($19). Standouts for starters included a beautifully constructed beet (yes, BEET) tartare with Fuji apples, leeks, buttermilk blue cheese and pistachio nuts ($12) that even my beet-hating husband liked, and a tossed medley of slow roasted autumn vegetables with filberts, Vermont goat cheese and sherry vinaigrette ($13).
My eyes usually glaze over main courses since starters are usually more fun and creative. But Fraîche delivers on these nicely. Portions are very generous and, again, bless the chef for his use of vegetables. A wild striped bass with 12 hour fennel, oven dried tomatoes and cured lemon resting on shallow pool of cauliflower puree ($29) was my favorite of the fish dishes we sampled, but the standout in the group was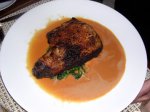 a filling pork chop "Shake & Bake," a perfectly cooked crusted chop nesting on broccoli rabe served with sides of roasted cipollini onions and pureed Okinawa sweet potato puree, a delicious accompaniment made from Hawaiian purple yams ($28). We all ogled but did not order two humongous Kobe beef burgers with a pile of crispy fries ($24) ordered by the next table. Mental note for next visit.
The wine list was divided into three simple price categories, $36, $48 and $59 offering 60 international selections. We selected a crisp 2006 Gruner Veltliner from Austrian producer, Heidler ($34), for starters, and a Pinot Noir Steele Carneros ($48) which paired nicely with our mix of fish, fowl and pork main courses.
Desserts are rich, not for sugar wimps. Each is reasonably priced at $9. Stuffed from our savory courses we tried just three out the six offered. Steamed treacle pudding with crème anglaise and Lyle's golden syrup was a denser twist on this British dessert classic. Fudge freaks will like chocolate caramel tart "Claudia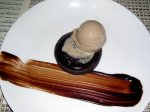 Fleming" with milk chocolate ice cream, sea salt and chocolate sauce, inspired by award-winning pastry chef Claudia Fleming. House-made lemon verbena ice cream was a soft palate cleanser for those who want something less sweet. Personally, I would lean toward a glass of Darroze Reserve Bas-Armagnac ($16) to end my meal. The dessert and cordial menu labeled: Fraîchefinish" has some nice selections.
Fraîche is opened Tuesday-Saturday for dinner starting at 5:30 p.m. 75 Hillside Road, Fairfield. 203-256-5744. www.fraicherestaurants.com
*Foodie Five: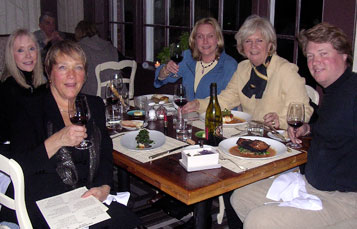 Caroline Stuart, Bonnie Tandy Leblang, Melanie Young, Gillian Duffy, David Ransom