Ask Riga's locals where they prefer to dine in touristy Old Town and they will point you in the direction of Folks Klub ALA (. The subterranean gastropub proved to be the ideal spot to savor a traditional meal and libations, all in a cozy cellar atmosphere with live folk music.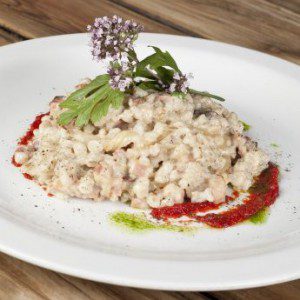 Meat and potatoes are staples in Baltic cuisine, but there was plenty of variety beyond those dishes for our group of 10 hungry backpackers. I enjoyed the filling pearl barley risotto with bits of pork in a cream sauce for only 3.20 Euro ($4.29), a smoky and hearty comfort dish over tart cranberry sauce. A Swede at the table ordered the blood sausage special with potatoes gratin. The sausage was the perfect consistency, not too dry, with a flavorful balance of smoke and spice. The Brits gave their nod of approval.
When it comes to drinks, the friendly staff are helpful in assisting patrons with Latvian beer and wine selections. Those feeling more adventurous can throw back a shot of the city's pride and joy, Riga Balsam — a strong black liqueur with 24 medicinal herb ingredients — an acquired taste you'll  love or hate!
Folks Klub ALA
Peldu street 19, Riga Old Town, Latvia, LV-1050
+371 27796914
www.folkklubs.lv/en
– Nicole Jacobson, Guest Contributor