By Bite of the Best regional correspondent, Stephanie Amsel
We had no idea what to expect when we went to Fogo de Chão, Brazilian Steakhouse, to experience the Southern Brazilian Churrasco that included steak, lamb, pork and chicken. First, there was a lovely salad bar and immediately across from the salads was a plate piled with glistening, crispy bacon. The salads looked fresh and inviting, but the bacon looked amazing!
Since this was our first visit, we needed to learn the house rules.
Rule #1: Pace yourself
You get a little card that is red on one side and green on the other. Keep the green card showing if you want more meat to keep arriving tableside.
Rule #2: Continue to pace yourself
It's easy to get caught up in the excitement of more meat than you can stand being passed around on skewers ready for tasting, but exercise control.
We sampled several new items on the menu, including the roasted cauliflower salad, oven-roasted cauliflower with garlic, black pepper, olive oil, scallions and sesame seeds,  which would have benefitted from more roasting time. The gluten-free carrot and ginger soup, with coconut milk and herbs, was a soothing way to start the dinner. The newly unveiled red wine, Eulila, a crisp, dry red blend of Carmenere, Cabernet Sauvignon and Syrah from the Cachapoal Valley in Chile, went beautifully with all the different carved meats. This specially created wine pays tribute to Eulila "Selma" Oliveira, Chief Culture Officer of Fogo de Chão.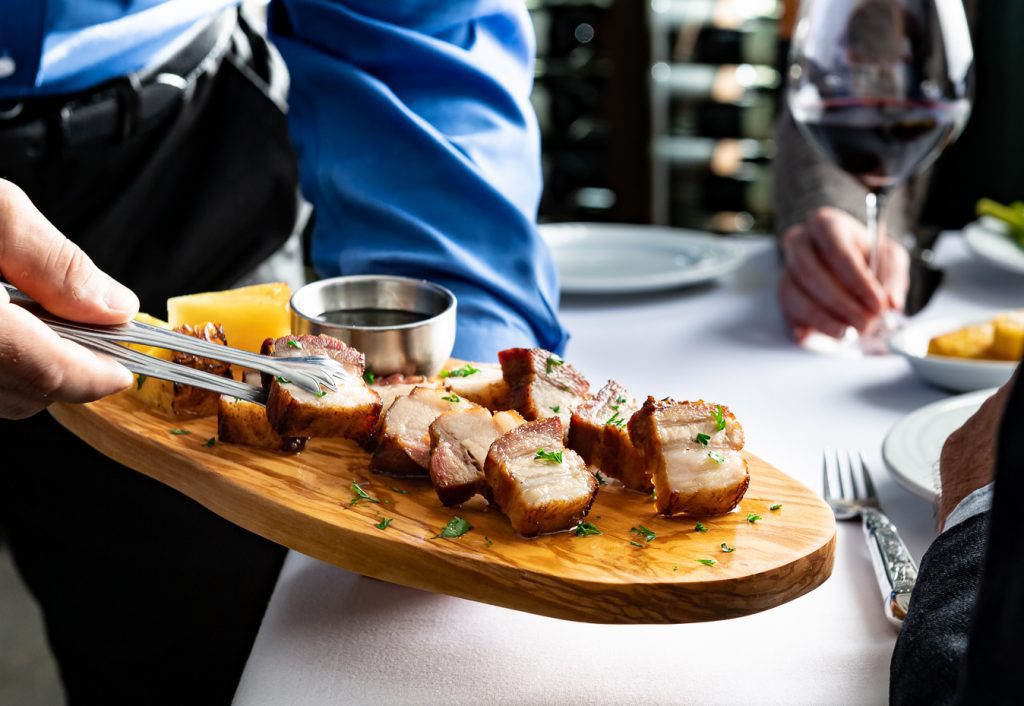 Throughout the dinner, the service was professional, attentive and the manager, Carol Valdez, was very welcoming. Valdez told us that President George Bush, Sr., was a huge fan of this first U. S. Fogo de Chão in Addison, Texas because he had enjoyed churrasco steakhouses in southern Brazil. The story goes that the Secret Service used to joke that the carved tableside dining at Fogo was the "closest the president ever got to a sharp knife."
The dry aged long boned beef ancho rib eye, the featured steak of the evening, was tender, juicy and nicely pink, but not as flavorful as the Picanha prime top sirloin, seasoned with sea salt and garlic. I wouldn't waste time and stomach space, on the chicken kabobs, which were dry and uninspired. A new item on the menu was the Bisteca de porco (pork chops) and they were moist, salty and crunchy on the edges. The sides, including the Fogo feijoada (black beans over rice) and mashed potatoes, were tasty, but a bit dull.
Dessert was a papaya pudding, which had a slightly soapy taste. Instead, order the crème de coconut, a traditional Brazilian dessert made with shredded coconut, condensed milk and cream, served warm with ice cream and lime zest, for a creamy, luscious ending to a meat-heavy meal.
An interesting option instead of dinner would be the Gaucho Lunch special, which includes the Market Table (fresh salads, seasonal soups, exotic vegetables), the Brazilian sides and Feijoada Bar, for only $15 per person. You can add a choice of fire-roasted cuts of steak, lamb, pork, or chicken grilled selections for $6 – $10. These weekday lunches seem like a great way to enjoy the full Fogo de Chão churrasco experience!
Fogo de Chão
4300 Belt Line Rd.,
Addison, TX 75001
(972) 503-7300