After seeing the amazing The Ferryman for the second time, we headed uptown to Fogo de Chão Brazilian Steakhouse located on 53rd Street near Museum of Modern Art for our Churrasco Experience arriving before the dining room was open. By the way, The Ferryman at the Bernard B. Jacobs Theater is not to be missed! For a complete review of this powerful play, click here.
This three-story, 16,000 square foot flagship location of the steakhouse opened in New York City at the end of 2013. We arrived early, heading upstairs to the inviting bar for cocktails.
Bartender Chris made us two of their specialties, the Fogo caipirinha and a caramelized pineapple old fashioned ($8 happy hour cocktails from 4:30 to 6:30 in the bar area only), each superbly mixed. The classic Brazilian caipirinha is often made too sweet for me. Not here. Neither was the unusual old fashioned with muddled caramelized fruit. I recommend either one. While at the happy hour, we also sampled the tasty beef-filled empanadas ($8 for four small during happy hour).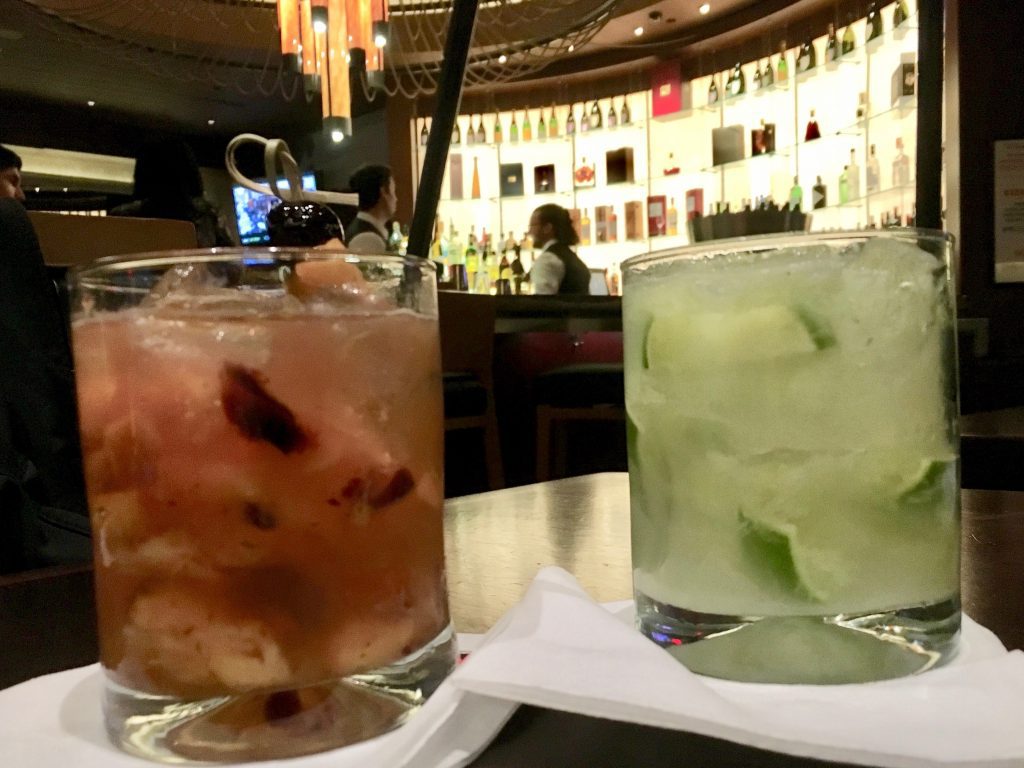 Lorena Pinto, the manager on duty, helped us navigate from the upstairs bar to the lower level when they opened at 5:30 pm. We started with the amazingly fresh seasonal Market Table and Feijoada Bar (black beans, rice, oranges, malagueta hot sauce, farofa and other classic accompaniments). It included seasonal unusual salads (feta and watermelon, sesame cauliflower), fresh and roasted vegetables, smoked salmon, imported charcuterie and cheeses, candied black pepper bacon and so much more. We were careful not to overfill our plates as we knew we had to save room for the churrascaria, served rodízio style.
Once we finished our salads, we each turned over the card on our table to show green (instead of red) signaling with roaming waiters that we were ready for the simply seasoned, fire-roasted meats carved onto each of our plates from their large skewers.  These meats — pork belly, beef sirloin, filet mignon, ribeye, chicken legs, lamb loin, lamb chops and more — kept coming until we flipped our card back to red, which we often did to rest between meats.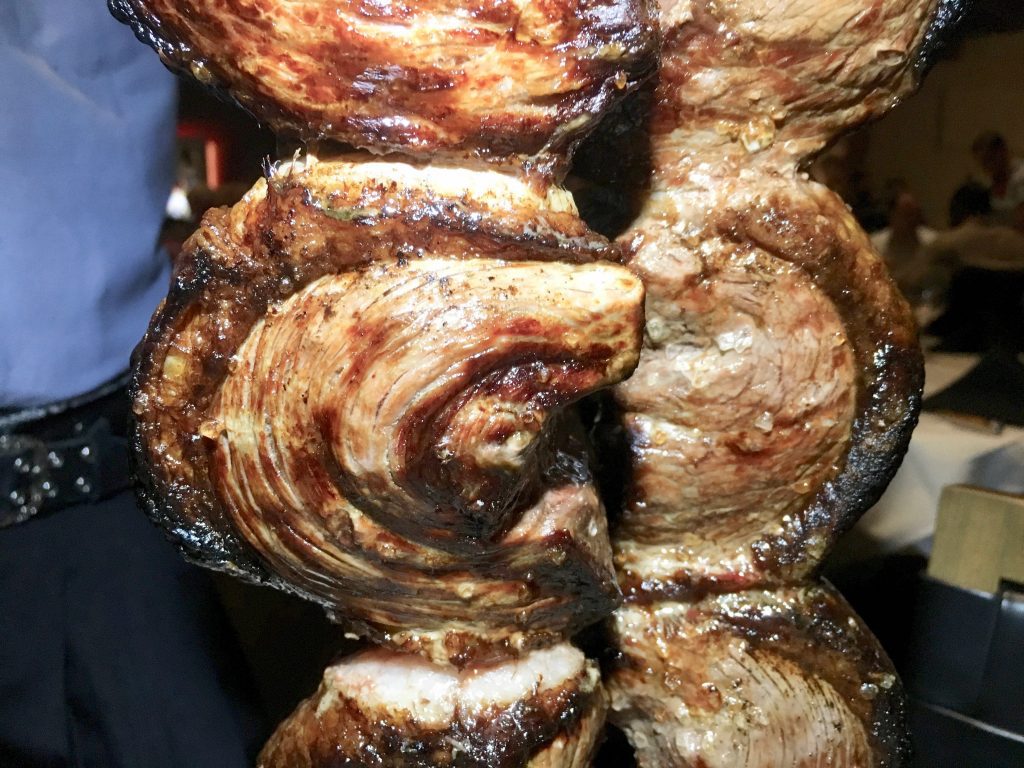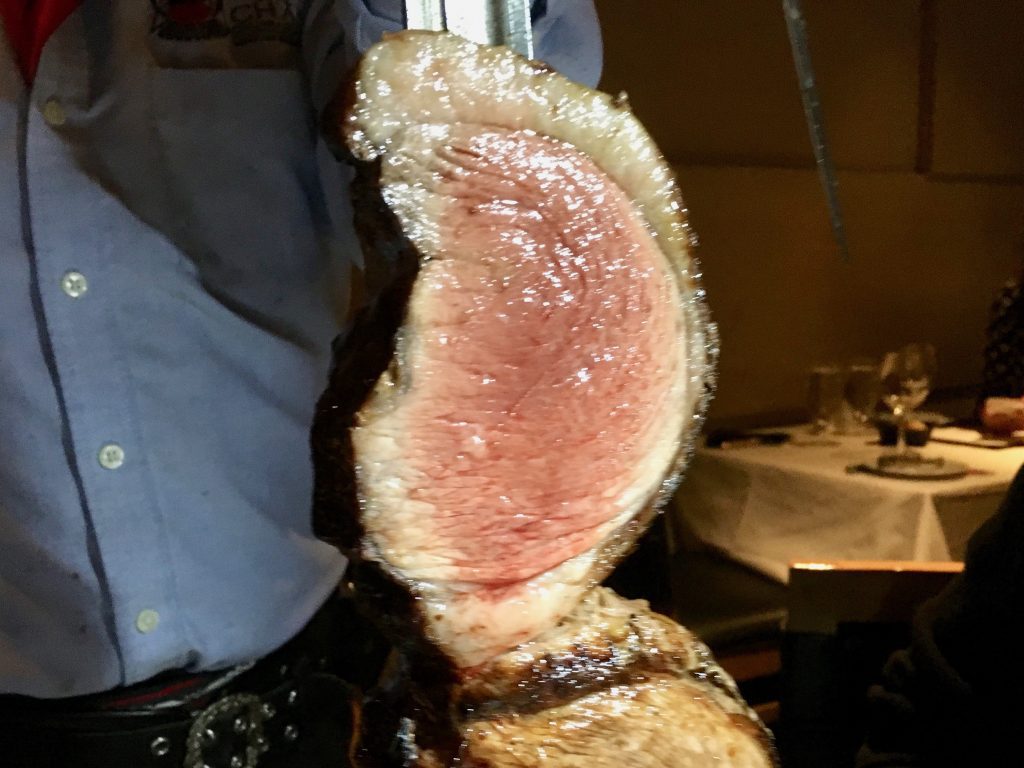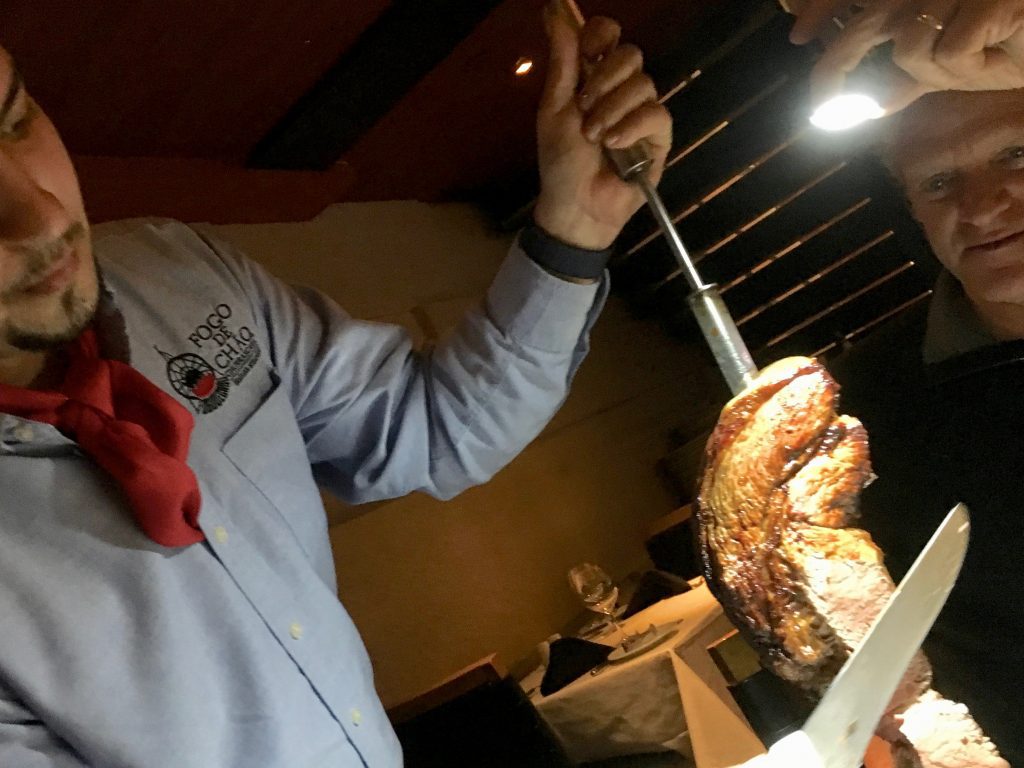 Although stuffed, we did sample two of their desserts, the shredded coconut baked with condensed milk and cream served warm with ice cream ($11) and the crème brûlée ($11).
This full churrasco experience costs $66.95 at dinner; $42.95 to $46.95 at lunch; The Market Table and feijoada bar only is  $18 for lunch (What a bargain!) and $32.95 at dinner. I highly recommend a visit.
Fogo de Chão Brazilian Steakhouse
Midtown
40 West 53rd Street
New York, NY 10019
(212) 969-9980