Bonnie: Who doesn't love the taste of food cooked on a grill? Because of that, I use my outside gas one all year round — except when the snowdrifts don't allow me to open the screen door.
I've lugged charcoal, a chimney starter, newspaper, boxes of wooden matches and sometimes even a minigrill to tailgates, picnics and other outdoor gatherings. Sure it was a hassle, but there was no other option if we wanted grilled food. Until now.
Note: A chimney starter is a tall metal cylinder used to quickly start briquettes.
When the PR person from FlameDisk pitched this greener alternative to charcoal, I was intrigued. I had to test it. If it worked as she described, I thought we'd share this info with all of you as it could be something to keep on hand for those outdoor grilling get-togethers sans schlepping.
"Easy to use" is an understatement. Just remove from the box, peel off a film, place inside your grill and light one of the holes with a match. It's ready to grill in just seconds and lasts about 40 minutes.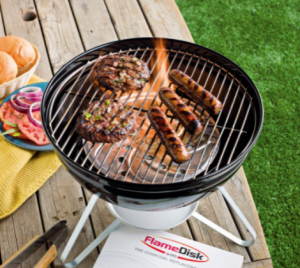 The FlameDisk comes packaged in 9.5×1-inch box, something easily stored in your car or a closet. Keep one on hand for tailgating, picnics, boating, camping or for the time your propane tank runs out.
The only caveat is the small 9-inch cooking area, but with it reasonably priced at $5, you could use two.
Bryan: Cooking over an open flame imparts a different taste, texture and essence to foods that can simply not be duplicated. The love affair with the "open flame" has turned grilling into a staple of American cultural cuisine, with tailgating traditions and backyard BBQs woven through the fabric of our country's culinary offerings.
If you grill (I do), you likely grill in two places — at home and "on the move." Many, myself included, have turned to propane for our home grills, opting for the easier route over the more traditional (and revered) hot coals. I love my gas grill and don't miss lighting coals at all. It's faster and cleaner, with the only drawback being the occasional "Oops, we're out of gas." Cooking on the move is a bit trickier. I don't have a portable gas grill, so when I decide to go tailgating, camping, on a picnic or otherwise, if I'm cooking, it's wood or coals, and it's a pain in the a$$.
I absolutely love this product! FlameDisk has solved all my outstanding grilling problems. So, "what is it?" you're asking. FlameDisk is an ethanol fuel cell that's about the size of a large dinner plate. The cell can be placed inside any grill and is lit by simply touching it with a match; in a matter of minutes you're grill is flaming hot and ready to cook on. After having run out of propane a few too many times (and yes, in sitcom fashion, once during a dinner party), I now keep a FlameDisk on hand at all times…. It's a savior when your grill dies halfway through your burgers. Simply turn off your gas valve, carefully remove your grilling surface and place the FlameDisk in. Light it and you're back in business!
On the move, there could not be a better fuel. FlameDisk works with any grilling surface where coals would normally be used and is so much easier to transport and dispose of. Though a bit pricier than charcoal, at about $5 each, the FlameDisk more than makes up with efficiency and ease. FlameDisk uses safe, renewable ethanol, lights immediately and does not flare. It cannot spill and it cools quickly when spent, providing heat for about forty minutes. Additionally, designed with a SmokerPlate, meat juices drip down and burn-off to impart a smoky, grilled flavor to your dishes. FlameDisk cooks at a similar rate and temperature as a charcoal or propane grill, so if you typically cook your burgers five minutes on each side, do the same with FlameDisk. As a safety note, please be aware that you should only use FlameDisk outdoors, as this is an open flame. Grilling season is again upon us. Get out there!
Eric: One of my biggest problems is my inability to express what I'm thinking. Although the thoughts are clear to me in my head, when it comes time to verbally express them, I begin to trip over my words. The unfortunate part is that this affliction translates into my writing. Particular in this blog, I tend to put myself in the consumer's shoes, and write what I would want to read if I were debating over purchasing a product. Here is my reasoning for purchasing the FlameDisk:
1. Clean fuel alternative to the standard charcoal;
2. Easy to transport and safe to use on the grass, sand or pavement;
3. Quick to ignite; translating into a reduced meat-to-grill waiting time;
4. Slightly expensive, but worth every penny when the BBQ isn't at your house;
5. No mess to clean-up.
Although it's an alternative to charcoal and wood, it doesn't replicate the distinct flavor that both of them provide. The practicality of the FlameDisk is stated above, so the choice is yours. The real question is:
Why not have one on hand?