What do New Yorkers do when they finish a meal? They go out for dessert — especially when in Little Italy if Ferrara, serving since 1892, is a few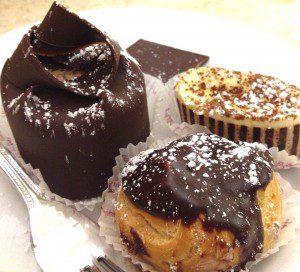 blocks away.
Since we had just eaten, we ordered the sampler – the trio of miniatures ($7.95). But since what really intrigued us wasn't available as a mini, we also had a mixed almond fresh fruit tart ($7.75). It's Bavarian cream filled, topped with seasonal fruits, surrounded by sliced almonds and not to be missed.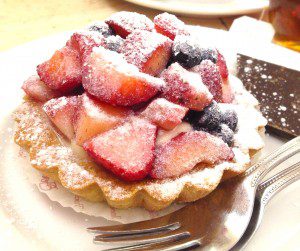 Coffee isn't cheap but this is a dessert place where it's acceptable to linger. A cup of house coffee is $3.75, the double espresso, more reasonable at $5.
When visiting Little Italy (or nearby Chinatown for that matter), leave room for dessert and head to Grand Street!
– bonnie

Ferrara Bakery & Cafe
195 Grand St
New York, NY 10013
(866) 920-4476
ferraracafe.com