Last year we interviewed Michael Anthony (executive chef and restaurant partner at Gramercy Taven and Untitled) just before the publication of his latest book "V is for Vegetables: Inspired Recipes & Techniques for Home Cooks — from Artichokes to Zucchini" (Little, Brown & Company). We're now sharing a colorful, crunchy salad from the tome, featuring fennel, one of my favorite veggies.
– bonnie
BonnieBOTB
Follow @BonnieBOTB

This salad shows off another side of fennel: fresh, crunchy, and full of anise notes. Israeli couscous isn't a grain like bulgur or farro; it's an extruded wheat pasta whose size and texture work well with the fennel dice and other chopped and tossed ingredients.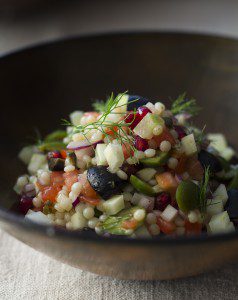 Fennel Tabbouleh
1 cup Israeli couscous
Salt
1/2 bulb fennel (fronds reserved), diced
1 small tomato, diced
1/2 small red onion, minced
4 large green olives, pitted and sliced
4 large black olives, pitted and sliced
2 tablespoons pomegranate seeds
1 1/2 teaspoons capers, chopped
2 tablespoons olive oil
2 tablespoons fresh lime juice
Pepper
Combine the couscous, 2 cups water, and a pinch of salt in a medium saucepan. Cover and simmer until al dente, about 15 minutes. Remove from the heat and let sit for about 10 minutes, until the liquid is evaporated.
Transfer the couscous to a large bowl and add the diced fennel, tomatoes, onions, green and black olives, pomegranate seeds, capers, olive oil, and lime juice. Add salt and pepper and toss to combine. Scatter fennel fronds over the top.
Makes 4 to 6 servings
V IS FOR VEGETABLES recipes courtesy Little, Brown and Company
Copyright © 2015 by Michael Anthony and Dorothy Kalins Ink, LLC