I met the delightful Felicity Huffman (one of the Desperate Housewives and wife of William H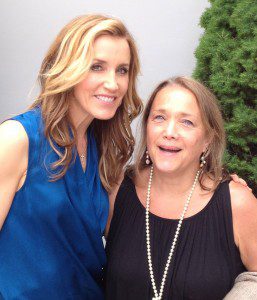 Macy) at a Dole luncheon on the rooftop of the Empire Hotel.
She spoke about her Salad'tude (the current Dole salad marketing campaign)… Hers is "sweet and spicy with a cheesy sense of humor, chunky undertones, rich in love with low fat lips."
Here's one of her recipes served at the luncheon.
Can't Get Enough Salad with Blackened Chicken
1 pound chicken breast tenders
1/4 c (4 T) butter, melted
2 T  blackening seasoning*
10-ounce package hearts of romaine
15-ouunce can black beans, drained
1/2 c sliced dried mango or 1 c fresh
1 avocado, peeled, cut into cubes
1/4 c Lime Vinaigrette**
1/4 c toasted shredded coconut, garnish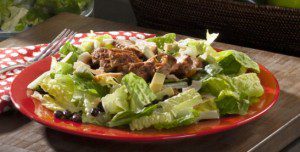 Brush chicken with melted butter, then coat with Blackening Seasoning, to taste.
Sauté chicken in nonstick skillet over medium-high heat, 7 to 10 minutes, or until chicken is no longer pink in center.  Remove and cut into bite-size pieces.
Combine romaine hearts, black beans, mango, chicken and avocado in large salad bowl.  Toss with Lime Vinaigrette to evenly coat. Garnish, if desired with coconut
Prep: 15 min. Cook: 10 min.
Makes: 4 servings
*Blackening Seasoning: 2 t allspice, 1 t cayenne pepper, 1 t garlic salt, 1/2 t onion powder, 1/2 t black pepper

**Lime Vinaigrette: Whisk together 1/2 cup olive oil, 1 tablespoon lime juice, 1 tablespoon champagne vinegar, 1 teaspoon sugar, 1/2 teaspoon salt and grated peel of one lime in small bowl.  Makes about 3/4 cup.
– bonnie