Earlier this year, I accompanied my friend from Theater Pizzazz to Feinstein's 54 Below, an intimate supper club offering dinner and drinks, to see Ben Vereen. The food had been so remarkable that I requested my return to sample more for a real review of the food of Executive Chef Lynn Bound.
They invited me when Linda and Laura Benanti — mother and daughter — performed. Laura is a Tony Award-winning actress who began her Broadway career at the age of 18, starring opposite Richard Chamberlain in The Sound of Music; this show, The Story Goes On marks Linda's return to the stage.
We arrived at 5:15 when they opened the doors, wanting to be able to dine before the show started and the lights went out. I started with one of their speciality cocktails the 54 Below Manhattan ($16) made with McKenzie rye, Dolin Rouge vermouth, Grand Marnier and Angostura bitters garnished with a curled lemon peel; my friend the sweeter Pear Evan Hansen ($14) made with Martin Miller's gin, St. Germaine, black currant liquor and pear nectar, topped with Zardetto Prosecco, hers garnished with a fresh pear slice. Both nicely balanced.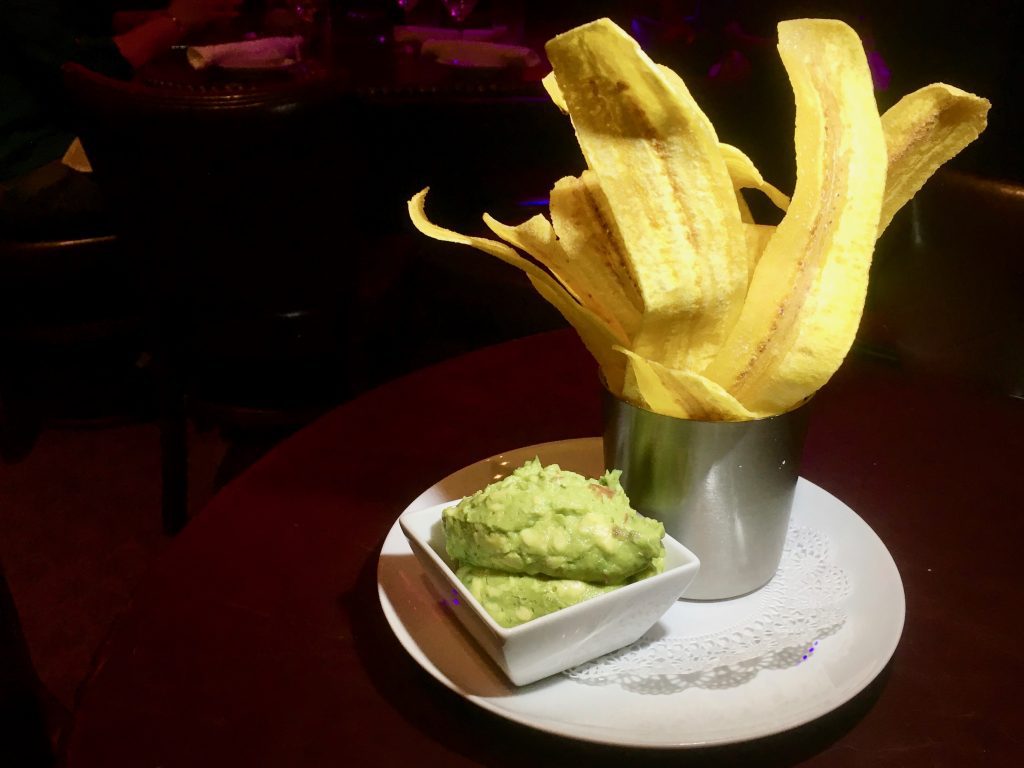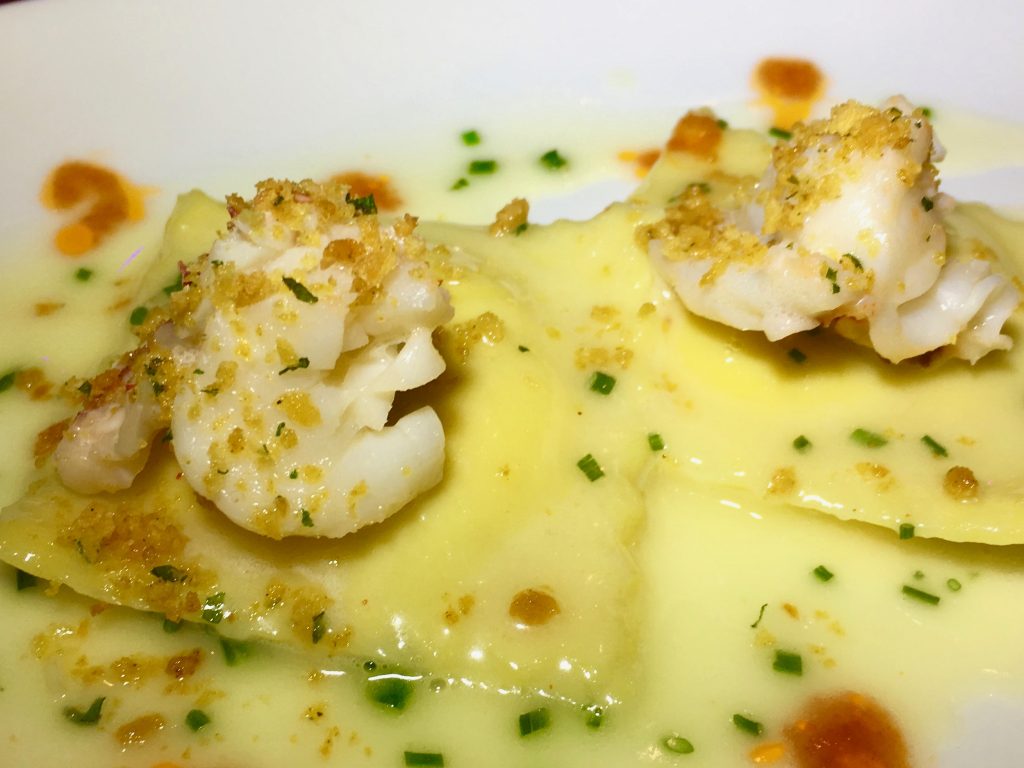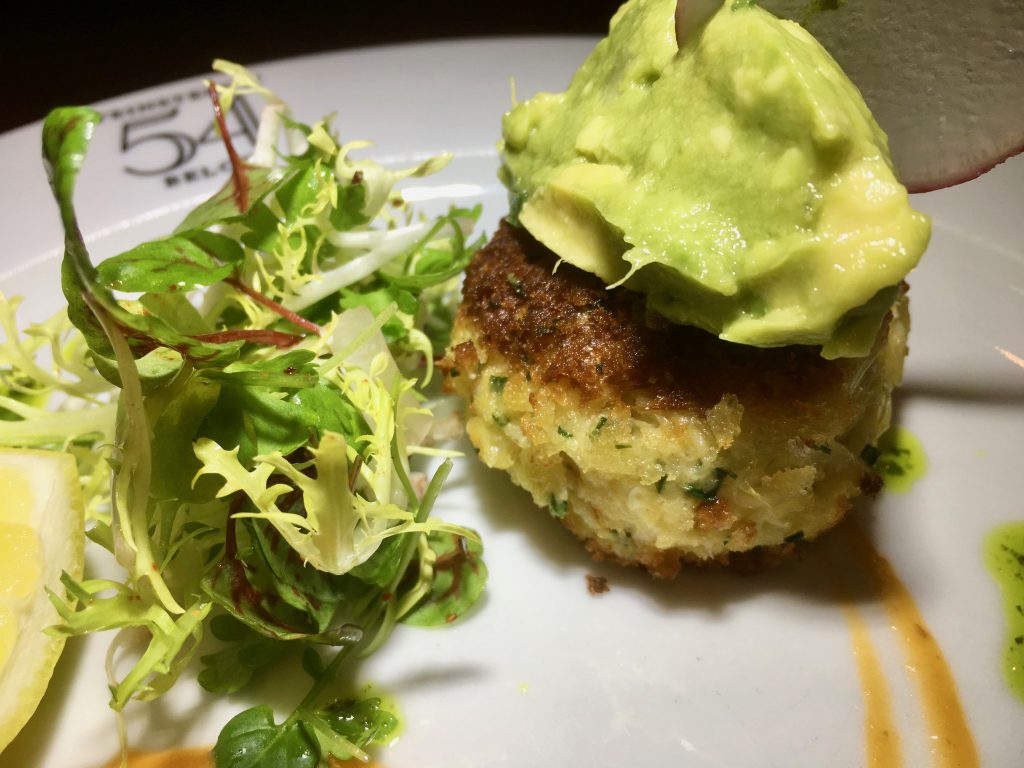 The kitchen sent out a hearty portion of guacamole served with tall strips of plantain chips ($12). That's when I requested small portions of everything, as we wanted to sample lots. (Keep in mind photos — other than dessert —  are not full portions!) The almost all crab Peekytoe crab fritters came topped with a soupçon of guacamole on a plate decorated with a roasted tomato vinaigrette ($22.00 for three). Worth trying.
A nice chunk of butter-poached lobster tops each al dente lemon-ricotta filled ravioli sprinkled with seasoned breadcrumbs ($28.00 for three). The GM who came to greet us offered a 2015 Bastianich Friulano, Friuli, Italy ($14), a wine he had a preference for as he had previously worked at Becco for Lydia.
As entrees, we selected the braised mole poblano short ribs ($42) from their prix fixe fall offerings ($68 for three courses) served atop pureed sweet potatoes, sprinkled with halved Brussels sprouts and topped with buttermilk-battered onion rings. If still available, not to be missed the pan-seared scallops ($42, also from the prix fixe menu) sitting in pureed parsnips and garnished with citrus. We sipped the Benziger ($16) Cabernet Sauvignon from Sonoma, 2014 with the beef; a rose, Chateau Sainte Marguerite, Provence, 2015 ($15) with the scallops.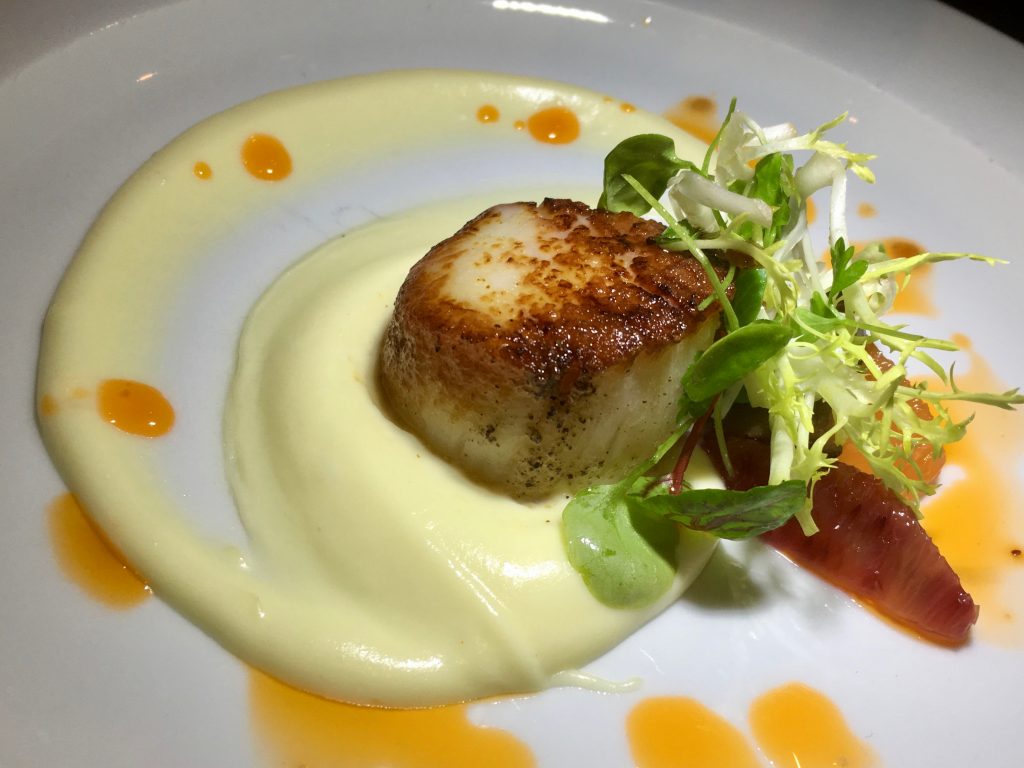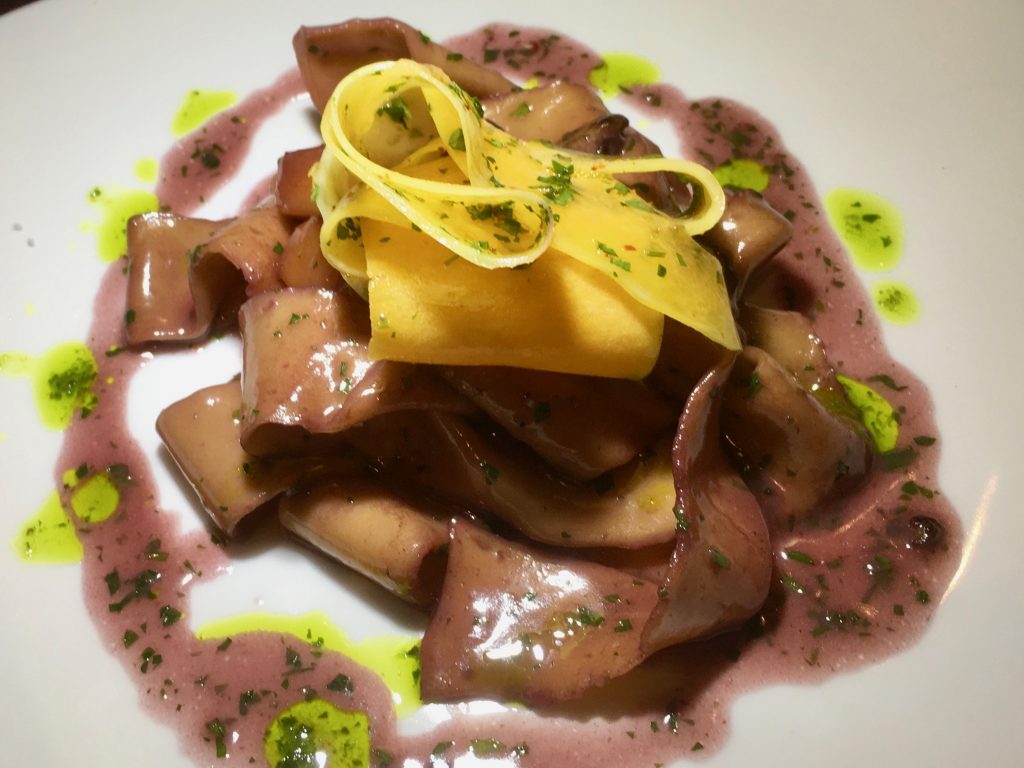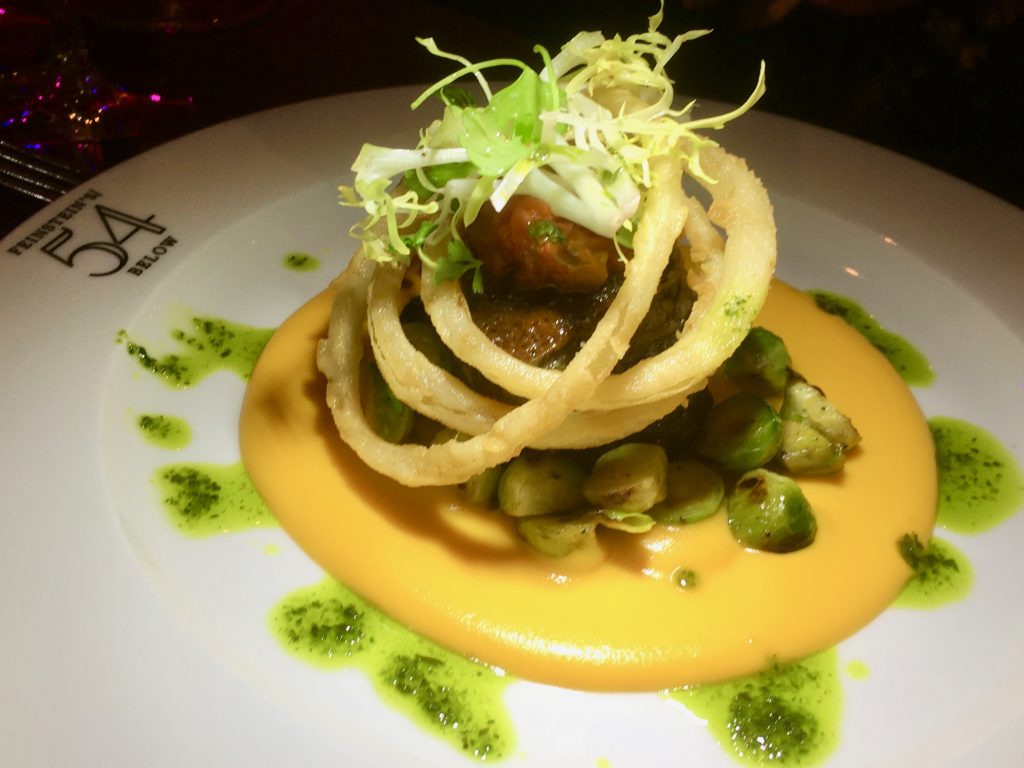 The only dish I would not suggest is the pappardelle topped with ribbons of butternut squash, mixed with shiitake mushrooms and shaved Brussels sprouts all tossed in a red wine butter sauce and sprinkled with shaved Pecorino Romano ($25.00). Bland, compared with the others that were bursting with flavor. The Italian Zardetto Prosecco ($12), 2013 was, though, a good match for the dish.
With the entrees we included broccolini ($9) and shaved Brussels sprouts, either is fine for adding a serving of veggies, my preference was the lemony sprouts.
For our finale before the show started, we sampled three of their desserts that are worth the calories. The butterscotch pudding comes in a puddle of salted rum sauce along with chocolate drizzled caramel biscotti ($13); the round of crumble-topped apple pie sits alongside bourbon-flavored gelato all in an apple-cider sweet caramel sauce ($13) topped with a curly crisp cookie  and a classic Affogato di Caffe ($12) of espresso topped vanilla gelato with a crisp wafer cookie ($12). With those, we sipped a glass of an Italian Vin Santo ($16), a perfect match for the sweets.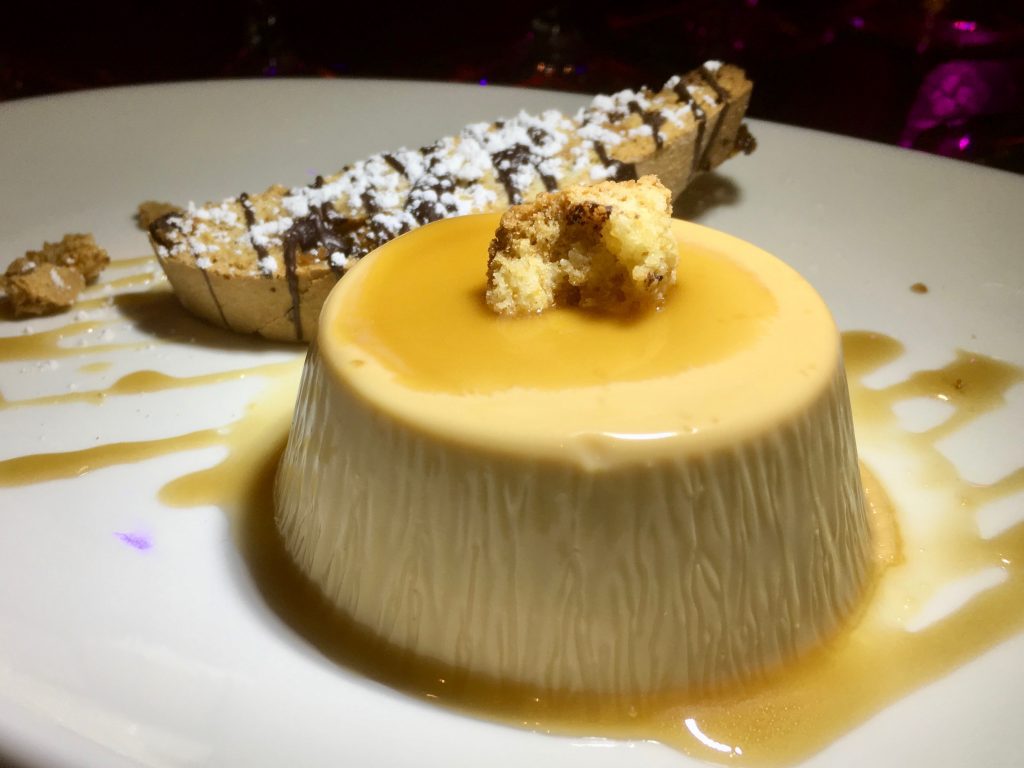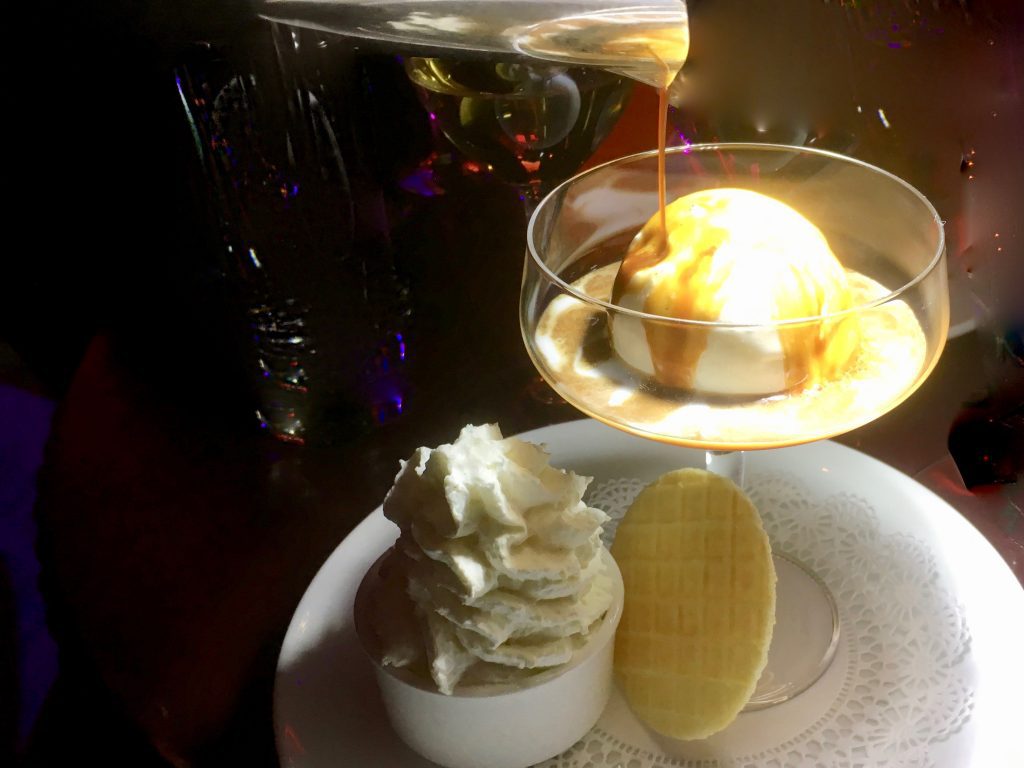 Feinstein's 54 Below
Theatre District
254 West 54th Street Cellar
New York, NY 10019
(646) 476-3551