Flipping through a magazine, I saw mention of a decadent almond pastry at Feast, a new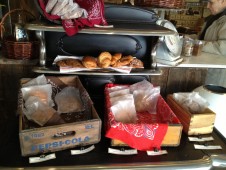 (as of March) restaurant on Third Avenue. I had to try it! Seems that proprietor Brian Ghaw, who also runs Savoy Bakery in East Harlem, brings some freshly made dough to Feast to make pastries on sight. You'll see them displayed on an antique cast-iron stove as you walk in the door.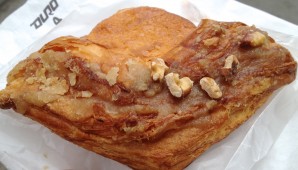 Luckily when I arrived, there was still one croissant ($2.75)  left.  It was worth the walk across town  —  it was moist, oozing with almond filling, brushed with a maple butter and sprinkled with nuts. In other words, decadent, so decadent that I decided to walk an extra two miles window shopping!
Freshly baked-on-premise-pastries and coffee 8 am – 4 pm Monday through Sunday.
– bonnie
Feast
102 3rd Ave, (between 12th and 13th)
New York, NY
(212) 529-8880