After a day at the Whitney — with an odd performance art on the 5th floor terrace — we looked for a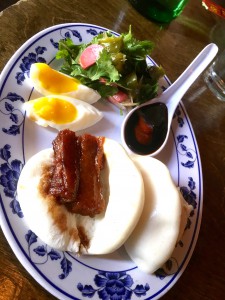 place to get a bite in the area. I'd been to all area majors, including Untitled and Santina… but were in the mood for something different.
The museum's membership desk offered up their neighborhood discount program with shops, services and restaurants that's in the process being updated. The listed Recelette (a place on my list to try) wasn't open for lunch; we learned Seamus Mullen's El Colmado Butchery had closed and then I noticed Fatty Crab on the list. I hadn't realized how close this laid-back, small plate Malaysian restaurant was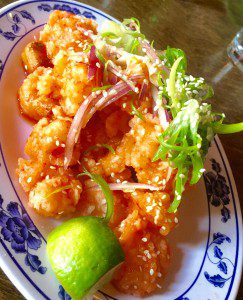 the to museum.
I've eaten (and thoroughly enjoyed) the well-seasoned food of Zak Pelaccio, who had lived in Malaysia and who brings those flavors to the Fatty Crab. These shared plates, sort of like bar snacks, are not to be missed.
Each of the two soft squishy steamed buns ($13) is topped with a hunk of perfectly seasoned pork and accompanied by slices of almost hard-cooked eggs, a housemade hoisin-like sauce with a small dollop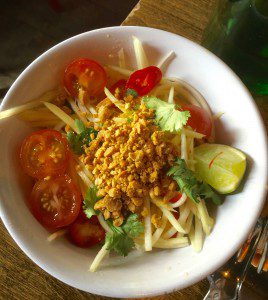 of a chili sauce and a salad of cilantro and pickled veggies and peppers. Put it all together for flavors that dance in your mouth.
Also good are the crispy fried chili-glazed small shrimp ($15) that come dotted with a few pork lardons and topped with onion shreds and cilantro. Don't miss the refreshingly spicy julienne green papaya and mango salad flavored with cilantro, lime juice and chilies, all topped with chopped peanuts and halved tomatoes ($13).
And to boot, all this comes with a bonus to members of the Whitney: a 15% discount on all food and drink.
– bonnie
BonnieBOTB
Follow @BonnieBOTB
Fatty Crab
West Village
643 Hudson Street
New York, NY 10014
(212) 352-3590