One friend and I always find a new cheap eats to use as our destination. We then meet and walk there… how we ended up at the Factory Tamal on Ludlow Street. It's a tiny restaurant and I use that word loosely. It's gigantic compared to their former storefront around the corner.
The person taking our orders had a smile from ear to ear. Factory Tamal certainly has something to smile about as they were recently and so very interestingly described by Lagaya Mishan in the Times.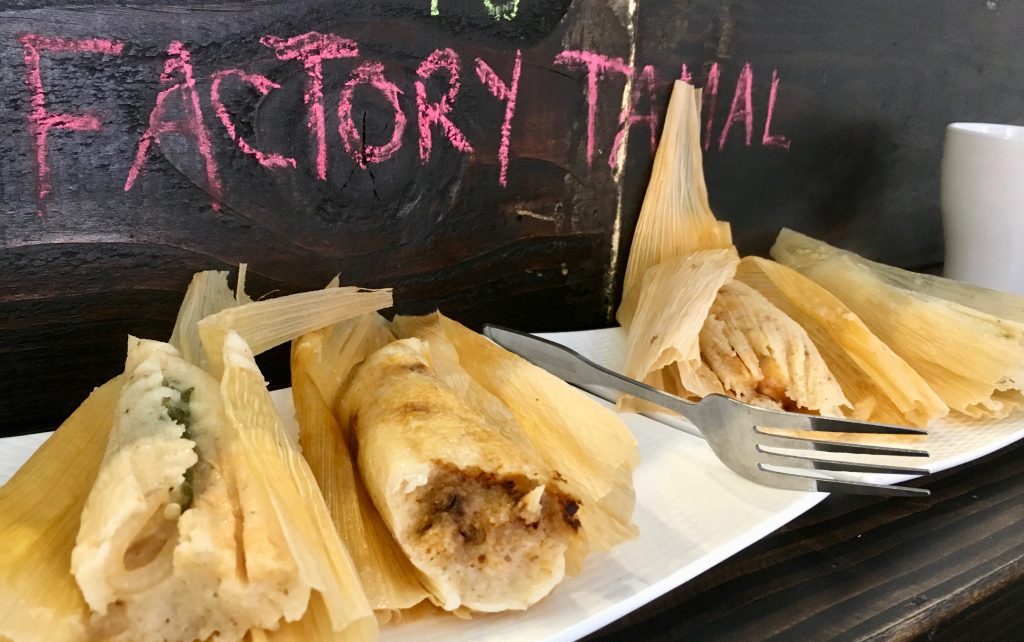 With one tamale breaking the bank at $2.50 (up a bit from the $2 price in the story), we ordered one of each of the five varieties. As you may know, a tamale is Mexican with some sort of meat or veggies encased in masa (think: mushy cornmeal), then enclosed in corn husks before cooked. At Factory Tamal, they make their own masa through nixtamalization. (A word I learned in food science classes.. thinking I may never use again.) It's a process of making to dried corn useable.
I'd recommend any of the tamales (mole poblano with chicken, chipotle, salsa verde with chicken, rajas con queso and the un-Mexican bacon and mozzarella), as the masa is so tasty the filling is almost secondary. Be sure to stop by, if you're in the hood.
– bonnie

Factory Tamal
34 Ludlow St,
New York, NY 10002
(917) 691-5524