Kerrygold — which specializes in Irish dairy products many of which we've reviewed or offered as a FREEBIE on BiteoftheBest.com —  now offers Kerrygold Irish Cream Liqueur.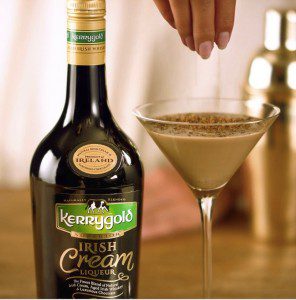 It is a rich and velvety blend of natural Irish cream, real chocolate and oak-aged Irish whiskey. This liqueur was named award-World's Best Cream Liqueur at the 2016 World Drink Awards. It is now available in most states.
My favorite way to enjoy it is in this simple martini, is as a dessert rather than to start the night.
Espresso Martini
Ice cubes
1/2 ounce vodka
1 ounce espresso coffee
1 ounce Kerrygold Irish Cream Liqueur
1/2 ounce Dark chocolate, for garnish
Fill a cocktail shaker with ice. Pour vodka, espresso and liqueur into the shaker; cover and shake well.
Strain into a chilled martini glass and garnish with grated chocolate.
Makes 1 serving
– bonnie
BonnieBOTB
Follow @BonnieBOTB