Empellon Cocina in the East Village is the Alex Stupak's second Mexican eatery, with the first being Empellon Taqueria across town in the West Village. This is not a local taco joint nor will you find traditional nachos, enchiladas or chile rellenos. Instead Empellon Cocina serves up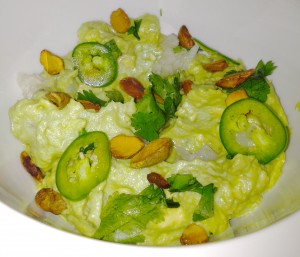 elegantly composed plates with familiar Mexican-inspired flavors.
Those unusual Mexican presentations began with the margaritas. I sampled the Reposado Margarita made with handcrafted barrel-aged Espolón premium tequila with notes of butterscotch, pepper and vanilla combined with fresh lemon juice and agave nectar ($15), my companion the ¿Por Que No? made with Pueblo Viejo Blanco tequila ($13) with cilantro and spicy green Serrano chile. Both were unusually flavorful.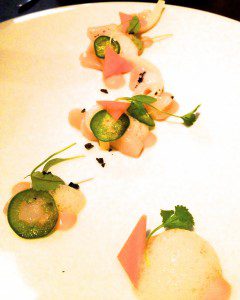 To begin, we chose two salsas from the seven unusual ones offered, with a basket of house made crisp-baked masa chips: The Tomatillo Chipotle ($3) with chipotle, roasted garlic, roasted tomatillos and honey; and the spicy Salsa de Arbol ($3) from arbol, cider vinegar, sesame seeds, pumpkin seeds and spices. We added an order of their  guacamole with pistachios accompanied with a pistachio salsa, made from ground pistachios and 12-year aged vinegar.
Next we had the composed Nantucket bay scallop ceviche with fresh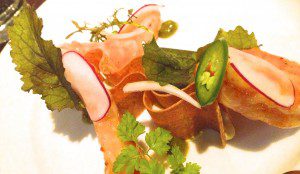 butternut squash, decorated with lemon curd and paper-thin jalapenos ($17) and, three chilled Mayan prawns ($15) nestled in a wave of crispy mousse-filled masa, garnished with lettuce,  jalapenos and salsa verde. Both were small portions with deliciously interesting flavors.
Next we ordered two "tacos" including  chilled, cured red snapper on a hot tortilla tacos with sesame habanera salsa and red onion ($12), and  — because of the fishy flavor and mushy texture the only dish I did not like — Peekytoe Crab Cake tacos with osetra guacamole ($16).  Although the portions are small, we never made it to the main dishes, filling up on the crispy masa and salsas.
Worth the visit for sure. I recommend giving Empellon Cocina a try!
Empellon Cocina
105 1st Ave
New York, NY 10003
(212) 780-0999