I read and heard raves
about Emily's pizza. When she finally opened an outpost in the West Village on Downing Street that took reservations, we headed there for lunch to see what all the fuss was about.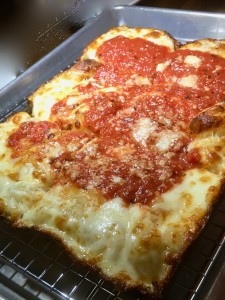 I'm here to tell you not to go for the pizza, but instead, order the soul satisfying burger topped with — of all things — American cheese on a Tom Cat Pretzel bun along with curly fries ($26). This is not your ordinary burger, instead, it's two patties of LaFrieda dry-aged beef, topped with caramelized onions, pickle slices and Emily's secret sauce. You'll be licking your fingers – and downing liquid all day to counteract the saltiness. Don't get me wrong, it's delicious and worth it.
I'm not raving about her pizza, though. We had ordered a round red pie, specifically, the Apizza topped with tomato sauce and Jasper Hill farm cheese ($14). Our pie was mushy – it could have used a couple more minutes in the wood-fired oven.
When we tried to lift a slice, it hung from the crust. We skipped that and devoured the burger. Our server amazingly noticing that we hadn't eaten it, offered to take it off our bill. She replaced that with The Grammy version of Detroit Grandma Pie with tomato sauce and mozzarella ($15) – a rectangular pie with a more cake-like than a chewy doughy crust. Although it was good, I'd only recommend going for the burger.
– bonnie
Emily
West Village
35 Downing St
New York, NY 10014

Save