The publicist for elm restaurant had tried to get me to New Canaan for about a year to sample the cooking of chef Brian Lewis,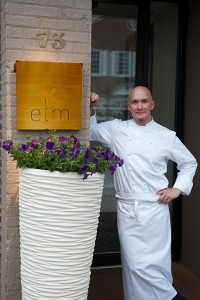 who had been best know for his Bedford Post collaboration with Richard Gere.
The 80-seat restaurant that opened last year is Brian's first solo venture. He considers it modern American, featuring changing seasonal menus spotlighting local Connecticut and regional farmers and producers.This year, Connecticut Magazine named elm one of the best new restaurants in the state and last year Esquire Magazine included it on a list of the 20 "Best New Restaurants." I concur – it's not to be missed.
In looking over the menu, there were so many items that I wanted to sample that Brian Lewis suggested he create a tasting menu, matching each dish to wine. How could I resist?
(Please note that the prices reflected here are for a regular portion of each. The chef's tasting menu costs $85, or $145 with wine pairings. I do highly recommend that!)
Our amuse was a shot of kubocha squash puree with pickled Asian pear, sprinkled with vanilla salt and topped with puffed wild rice. Just stir and enjoy, we were told while we sipped some Lallier, Champagne.
Next— the perennial favorite — Brian's Italian chestnut soup ($13) that is considered a right of passage during the holidays, available only from November 1 until January 1.  The waitstaff pours the creamy soup over cipollini onions, celery, and brioche croutons. Addictive! With that we sipped a crisp La Canna Albarino.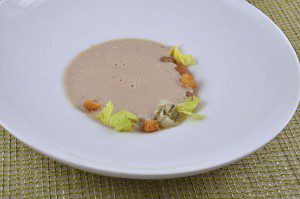 One of my favorites are the multi-colored, sweet chioggia beets ($14) with Humboldt Fog cheese and pistachio nuts all in a lime-lemon-orange vinaigrette. We enjoyed that with a glass of Patton Valley Vineyard's pinot noir. I generally love anything with kale, but not his ($13) Tuscan kale Caesar, the evening's only miss. That thinly shredded kale salad contained Castelmagno cheese and  bottarga di tonno (salted dried tuna roe), yet still cried-out for some seasoning. We did though enjoy the Martin Schaetzel, pinot blanc paired with that.
Also don't miss one of his "farm eggs" selections – especially the Blis maple bacon & eggs ($12), described by our server as, "Sort of eating breakfast at dinner!" The bottom of the shell contains an onion and bacon reduction and a soft scrambled egg, drizzled with Blis maple syrup (aged in oak bourbon barrels) all topped with robiola cheese foam and toasted brioche "soldiers." Also amazing is his chicken & the egg ($12), of fresh potato gnocchi with wild chanterelle mus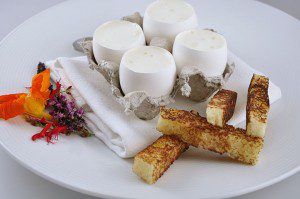 hrooms and a soft yolk that when broken blends with the chicken jus to make a sauce. Garnished interestingly with a tempura-battered cockscomb. A comfort homey food. Both egg dishes worked well with the Banknote, chardonnay.
From the sea portion of his menu, we sampled the sweet Nantucket bay scallops ($19), caramelized on one side, served with two cauliflower preparations (diced purple cauliflower salad with a yuzu — the Japanese citrus — vinaigrette and a more traditional one, pureed with butter and buttermilk), dotted with preserved lemon and finished with concord grapes,  seeded, scooped out and put back!!  That was served with a Spanish Hondarribi, Txaholi. Our second "the sea" ($21) was caviar toast: toasted housemade brioche, spread with housemade cultured butter, topped with sea urchin tongues, all topped with shaved lomo Iberico (cured ham loin) and Osetra caviar, sprinkled with shishito peppers. A delicacy.
We shared two rich and exq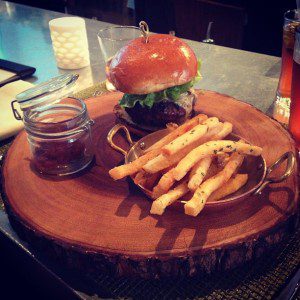 uisite handmade pastas: a red kuri squash filled ravioli topped with Syrian pumpkin seed oil, hazelnut seeds in brown butter ($26) and triangular-shaped foie gras cappelletti with drunken prunes and sherry reduction ($28) with a earth Sinor-Lavalee pino noir. (Both are available as half portions.)
Entrees include a braised Wagyu beef short rib ($33) in a red wine reduction —  so tender it fell off the bone — sitting on polenta, flavored with coffee, walnuts and dried cherries served with a Faust cabernet sauvignon. And, his slow-roasted in a garlic oil confit of Atlantic cod ($30) topped with a slightly bitter cuttlefish risotto, lotus root and, adding a touch of saltiness, fried pork skin (chicharrones) served with an Ellena, nebbiolo
As you can imagine, by the time I got to dessert I barely had room for even smidgeon of each. Those finales included a concord grape & almond cake; passion fruit mousse with chocolate crumble and coconut tapioca brulee, the thinly sliced pineapple topped with pineapple sorbet.
Would I suggest the drive to New Canaan to sample Brian's cuisine that's rooted in tradition and inspired by the seasons? Absolutely.
I must share that in addition to these upscale amazing dishes in my structured tasting menu, elm also offers an elm burger at the bar!
– bonnie
Elm Restaurant
73 Elm St, New Canaan, CT 06840
(203) 920-4994