Although, El Parador on east 34th is New York's oldest Mexican restaurant — having opened in 1959 — I hadn't been there until recently.
How lucky could I be that some friends were sitting at the table next to ours? Lucky I say as they were foodies, too and — like all foodies — agreed to share so that we'd each be able to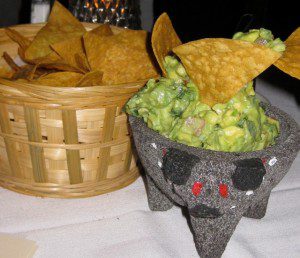 sample more things.
I started with their signature margarita ($9 straight up; $10 on the rocks) — made with fresh lime juice, Cointreau and  Zapata tequila — while nibbling the fresh made chips and two sauces. One, a very fresh pico de gallo with diced tomato (and tomato pulp), onions, lots of fresh cilantro and lime juice with some finely diced jalapeño pepper for a little bit of spice and the other, their non-vegetarian, cooked, warm salsa.
And, of course their chunky fresh guacamole "clasico" ($9) served in an adorable molcajete pig.
A must are the unusual and spicy Jalapeños Rellenos ($10). We had small ones, some filled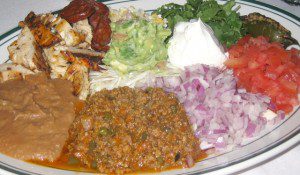 with Anejo cheese the others with chunky peanut butter, similar to the stuffed pickled jalapeños I had sampled at The Fort restaurant just outside of Denver.
The Taco Tray ($20/$28 depending on the size you order) contained a wonderful assortment of other menu items we wanted to sample: grilled chicken, beef picadillo, sliced chorizo, refried beans, more guacamole Mexican crema (thinner than our sour cream) , diced tomatoes, fresh chopped cilantro, diced onions and a shredded blend of Mexican cheese served with warm soft tortillas. (Not the hard shelled variety Americans have come to expect in Tacos.)
The Warm Grilled Octopus Salad ($14) with cherry tomatoes, pickled jalapeños, cucumber and red onions, was just okay as the octopus was slightly overcooked.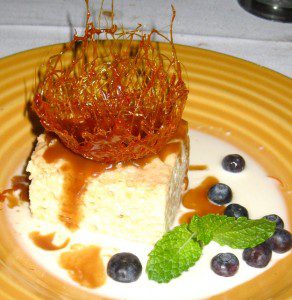 Perfection. That's the word I'd use to describe the Mole Poblano ($23) — the national dish of Mexico — with half a chicken in a complex multi-flavored sauce made from 24 ingredients, including Mexican chocolate,  (No, it's not sweet!)  served with rice.
The only miss of the evening was the Saute Lobster Enchiladas ($24) with chunks of slightly overcooked lobster wrapped in corn tortillas with scallions , almonds and tomato in flavorless green pumpkin seed mole.
The Barbacoa De Costilla Pibil ($22) — baby back ribs steamed in banana leaves so tender that the meat falls off the bone as you pick it up, served with a tequila-chile Juajillo salsa and with camote (sweet potatoes) whipped with fresh lime juice. So good, I actually licked my fingers to get every last drop of the sauce.
I had no room for dessert – but that didn't stop me from trying a bite of each of the three desserts our two tables ordered:  Pastel 3 Leches ($10) – a three milks cake with a cajeta caramel sauce – topped with my favorite part, the caramel nest; a crispy and creamy Mexican fried ice cream topped with Mexican crema, honey, blueberry sauce and served with a chunk of peanut brittle; and chocolate Ibarra pot de crème ($9), a delicate Mexican chocolate pudding topped with fresh berries and whipped crème.
The final must have: house-infused pineapple tequila, straight up ($9). Think Mexican lemoncello – a real digestive.
El Parador Cafe
325 E 34th St
New York, NY 10016
(212) 679-6812
www.elparadorcafe.com