A delicious use for those overripe bananas!
Easy-to-Make Banana Chocolate Chip "Bread"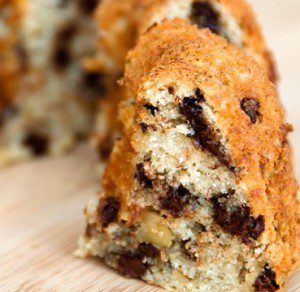 Place 3 overripe bananas, 1 T fresh lemon juice, 1 c sugar, 4 ounces (1/2 cup) butter and 2 eggs in the bowl of a food processor fitted with the steel blade; process until the mixture is well blended. Add 2 c all-purpose flour, 1 1/2 t baking powder, 1/2 t baking soda and a pinch of salt; pulse just until the flour's mixed in. Scrape the sides of the bowl with a rubber spatula; pulse once more. Add 1 c (or 1 1/2 c if you like it extra chocolatey) semi-sweet chocolate chips or chunks; pulse once to mix in.
Pour batter into a greased 9×5-inch loaf pan and bake in a preheated 350-degree oven for 45 to 55 minutes until a cake tester (or toothpick) inserted in the center of the cake comes out clean (other than some chocolate that may stick to it!). Let cool on rack in pan for 10 minutes, loosen the edges and turn onto the rack to cool completely, right side up.
– bonnie