When I arrived at the Driftwood Room inside the new Nautilus South Beach Hotel, the chef — Alex Guarnaschelli — was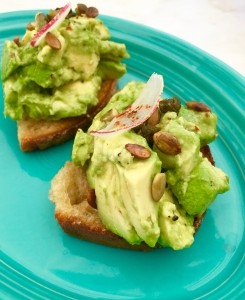 actually there at a table with some business associates. That wasn't surprising as  the day I was invited to stop by for lunch was during the South Beach Food and Wine Festival where Alex was a participant.
Her menu is described as "cuisine of South France with a Miami palate;" her offerings though were pretty ordinary. What was lovely was sitting outside on the patio by the pool and the friendly service.
We started with a couple of the restaurant's "for the table" offerings along with our cocktails ($15). The Cabana Club with Avion silver tequila was way too sweet with strawberry agave syrup, garnished with basil. The Just in Thyme with Grey Goose and thyme-infused lemonade was a better, less-sweet selection.
Do try the avocado toast — a slice of crisp toast overloaded with fresh avocados, crispy capers,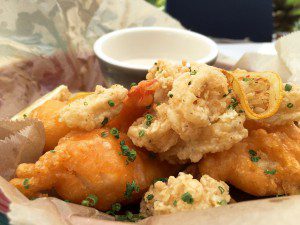 pumpkin seeds and radishes ($14). It was the best of what we sampled.
The fritto misto ($19) had over-battered fried red snapper, calamari and shrimp plus fried lemon slices and a lemon caper tartar sauce. We left lots.
After those, we shared the cabana club Caesar ($14). A salad that would have been better had they grilled the trimmed whole romaine head as they did the Florida shrimp. The plebeian salad came topped with a basil pesto and croutons, sprinkled with Parmesan. The best part were the nicely grilled shrimp. The buttermilk fried chicken in the chicken sandwich was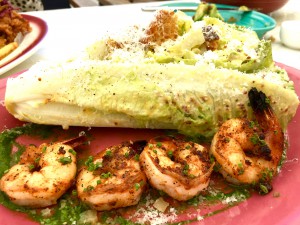 overcooked; I was thankful for the house kimchi slaw ($17) to help moisten it.
We started and ended on a high note, as the freshly made warm donuts filled with passion fruit puree and served with an vanilla bean custard ($12 for three) were worth it, if you like donuts.
– bonnie
Driftwood at Nautilus Hotel
1825 Collins Avenue
Miami Beach, Florida 33139
(305) 503-5700