I just adore Dominique Bistro. It's a small French place on the corner of Christopher and Gay Streets in the West Village with tall windows allowing in the light and a noise level where I can hear myself think.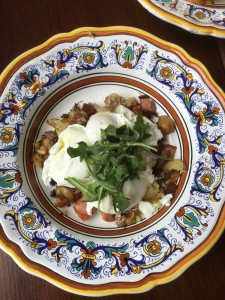 I returned recently — as their guest — for brunch. I started with a mimosa, my dining partner had a bellini. We shared three delicious entrees each made with cage free, organic eggs.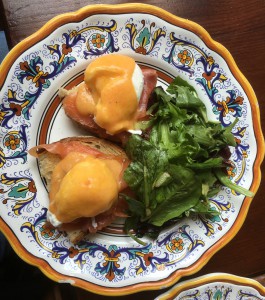 I don't normally like eggs Benedict as I find the hollandaise way too rich. But the sauce "choron" served atop the smoked salmon eggs Benedict ($18) had the addition of tomatoes making it so much less rich that I lapped it up.
My least favorite entree was their croque monsieur ($12) with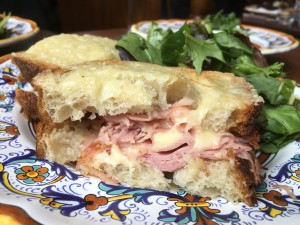 cooked ham and gruyere on organic bread with a side of mixed green as it was a bit dry and ordinary. What I loved and highly recommend is the duck hash ($18), a dish of shaved duck and diced potatoes with huge meaty chunks of lardons topped first with poached eggs and then arugula.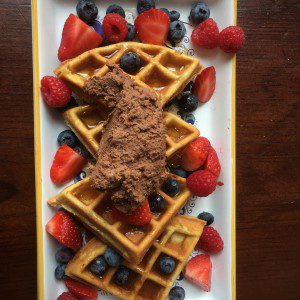 I'd go back for that anytime.
We also sampled a sweet entree, which we indulged in as our dessert. The homemade waffles ($15) topped with fresh blueberries and strawberries, was finished with a huge dollop of chocolate mousse.
– bonnie
Dominique Bistro
West Village
14 Christopher Street
New York, NY 10014
(646) 756-4145