I had been to Jazz at Lincoln Center at Columbus Circle earlier this year when I had attended the American Heart Association's Red Dress Awards. This time I was invited to Dizzy's for jazz and southern fare with an amazing view of the city through the wall of windows behind the
performers.
Since this is a club with nightly performers, there is a cover charge ($20 to $40 Sunday through Thursday and $40 – $45 of Friday and Saturday) for the shows at 7:30 and 9:30 seven nights a week; plus a $10 a person food and drink minimum.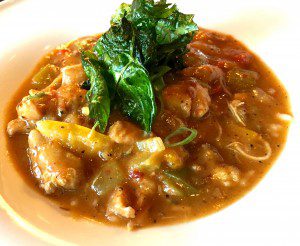 But don't miss the Southern-style menu of Brent Sims, executive chef of Dizzy's, who hails from Alabama. This is another restaurant that's produced by Great Performances, a NYC catering and food service organization dedicated to seasonal ingredients, vibrant flavors and gracious service.
Do try their refreshing Cool As The Night cocktails, their takes on a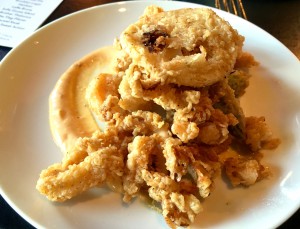 margie with tequila, Cointreau, cucumber puree, fresh lime juice and basil ($14). From the bar bites menu, I'd highly recommend a platter of N'awlins Fry ($17) with beer-battered seafood (calamari, oysters, shrimp, crawfish), asparagus and palate-cleansing lemon wheels.
And do not miss Dizzy's perfectly seasoned chicken gumbo with Carolina rice, topped with crispy fried kale ($14). The only disappointment was the oddly bland duck confit with slow-cooked Anson Mills grits topped with pea tendrils. I would have thought the menu-stated étouffée would have added lots of flavor. It didn't.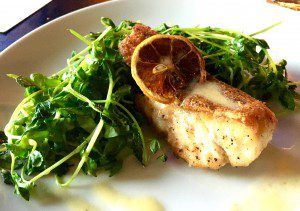 If you'd like a lite entree, go for the redfish pecan mueniére in brown butter ($29) with pea shoots. I'd highly recommend the more filling, juicy Memphis-style bourbon-glazed very meaty baby back ribs with corn bread pudding so rich it could almost be dessert! Grilled asparagus hidden under the juicy ribs ($26). If you miss the ribs, do order the yummy corn bread pudding as one of your sides ($6). For sides, we sampled the three-mac & cheese; morels with spring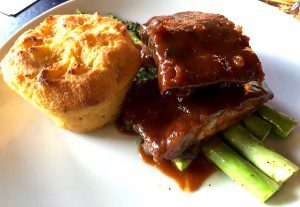 mushrooms and southern sweet potato fries — all in hearty portions sizes (Three for $15).
The folks sitting next to us, skipped the apps and entrees and ordered only dessert. The ones that passed us by looked so good, we had some too. I'd recommend the warm rhubarb crumble with vanilla ice cream ($12) over the rich dark blackout cake with chocolate pretzel crunch ($13).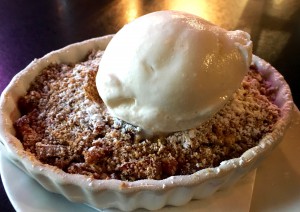 I'd also recommend a visit to Dizzy's Club at Jazz at Lincoln Center!
– bonnie BonnieBOTB Follow @BonnieBOTB
Dizzy's Club Coca-Cola
Jazz at Lincoln Center
The Shops at Columbus Circle
10 Columbus Circle
New York, NY 10019
(212) 258-9595