Earlier this month while wondering in and out of shops SOHO on a perfect weather Cinco de Mayo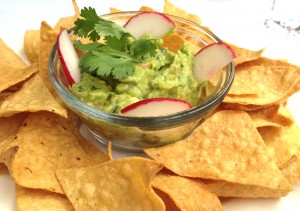 , most places with outdoor dining had a long wait. We were hungry.
We noticed Diva, which if we weren't needing satiation might have walked right past.  Instead we stopped for a just a nibble in the sun and received incredible hospitality plus tasty morsels.
Although small, the fresh guacamole and chips ($10) was perfectly made from avocado, tomato, onions, cilantro, lime juice and just enough jalapeno to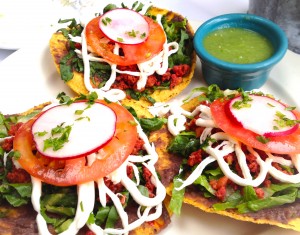 provide some heat. We requested some salsa, not realizing it wasn't on the menu. The waiter returned with a freshly made pico de gallo plus some spicy salsa verde. A perfect match to the guac and chip, and my refreshing margartia ($12), made with fresh lime juice, not a sweet and sour mix.
The open face Chorizo Tostadas ($14) were also worth the visit. Diva topped each of the three crispy tortilla with black beans, the spicy pork sausage, lettuce, fresh oaxaca cheese plus a tomato and radish slice. It came with a side of salsa verde.
A meal that won't break the bank! Worth visiting if you're in SOHO.
– bonnie

Diva
341 West Broadway
New York, NY 10013
(212) 941-9024
DivaSoho.com